The Greek coast guard opened warning fire on a Turkish cargo ship in the Aegean Sea off the coast of Rhodes island on Monday.
The cargo ship named M/V ACT was carrying steel from the southern port of İskenderun to İzmit in the northwest when the Greek coast guard called on the ship to divert its course to Rhodes, Turkey-based Deniz Haber Ajansı reported.
The ship was cruising in international waters and its captain replied that he will not follow this directive, while informing the Turkish coast guard of the incident and changing the ship's course towards Turkish territorial waters.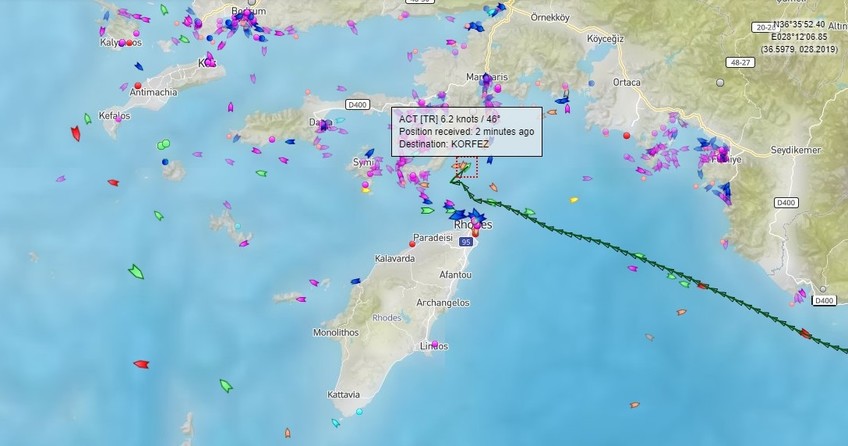 When the ship did not comply, the Greek coast guard opened fire in the air, then onto the ship. Two other coast guard vessels arrived in the area from the nearby island of Simi.
Two Turkish coast guard boats were also dispatched to the area, and the ship was first brought to Turkish territorial water, later to be brought to the port of southwestern resort town of Marmaris.
The ship's captain Haluk Sami Kalkavan said that there are at least 16 bullet holes on the ship, and the crew was unharmed despite the great risk.
"While we were cruising some three miles off the coast of Rhodes, the Greek coast guard approached to our ship and asked us to divert our route to Rhodes. When we asked the reason why, they said that they will control the ship. When we did not accept this, the Greek coast guard began to follow and harass us, and we diverted our route to the coasts of Turkey. They asked us to stop and said that they will open fire, and proceeded with what they said," Kalkavan told Turkish broadcaster CNN Türk.
The captain added that this was a regular route that they use all the time, and they could not figure out the reaction of the Greek coast guard.
In an initial statement, Turkey's Ministry of Foreign Affairs said that the ministry is in contact with the related authorities.