A magnitude 6.6 earthquake hit Turkey's western coast early Friday and was felt in the resort towns of Bodrum and Datça in Muğla province. No casualties have been reported in Turkey, while at least two people were killed and scores were injured on the nearby Greek island of Kos. Kos and Bodrum are about 10 kilometers apart, separated by the Aegean Sea.
Greek police said a Swede and a Turk died in an area abuzz with nightlife but have not yet revealed their identities. State news agency ANA said the victims were respectively 27 and 39 years old. They were found on the street, crushed either by the collapsed wall of a bar or by stones that fell from old houses nearby. Some 120 people were also injured.
Confirming the casualty in the earthquake in Kos, Turkey's Foreign Ministry said Friday that a second Turkish national was in critical condition and was being evacuated to Athens for treatment. The ministry did not identify the victim, saying authorities were still trying to reach his or her family members.
Turkish authorities have sent a 250-person vessel from the Turkish resort of Bodrum to Kos to start evacuating some 200 Turkish tourists stranded on the island, the ministry also said, noting that Greek authorities had granted the ship special permission to approach a pier in Kos where the port and customs building was damaged. Kos is a popular destination for Turkish visitors.
Greek government spokesman Dimitris Tzanakopoulos said that although the port of Kos was closed to traffic, damage elsewhere was minimal.
"The airport is operational and the roads are in good shape...there is no major damage to infrastructure or buildings," Tzanakopoulos told state TV ERT. He added that five badly injured people were being flown to a hospital on the island of Crete for treatment.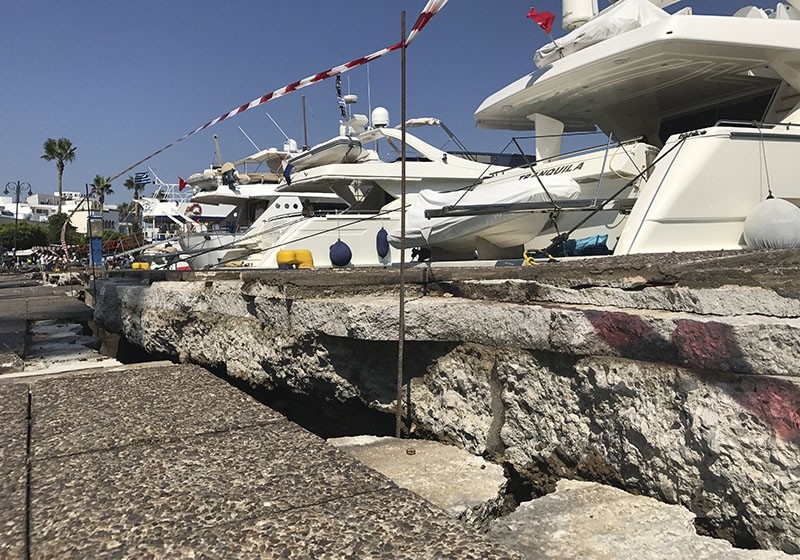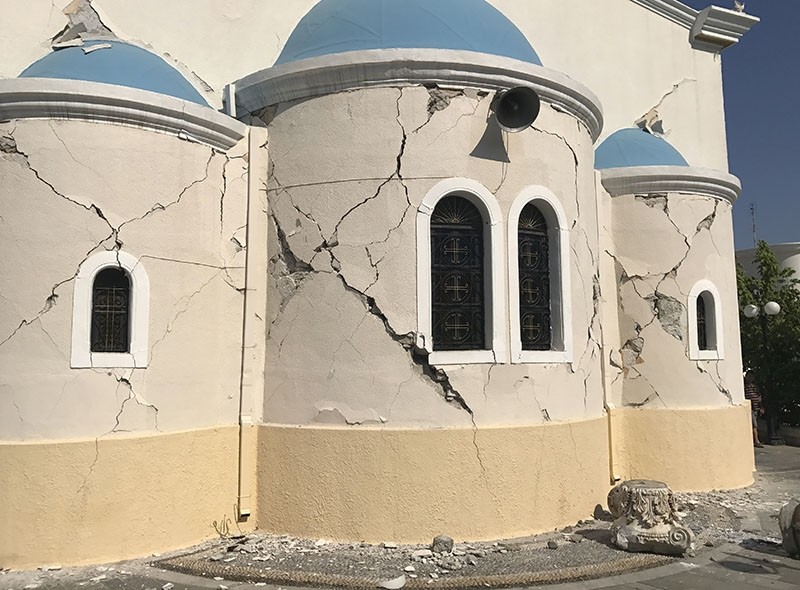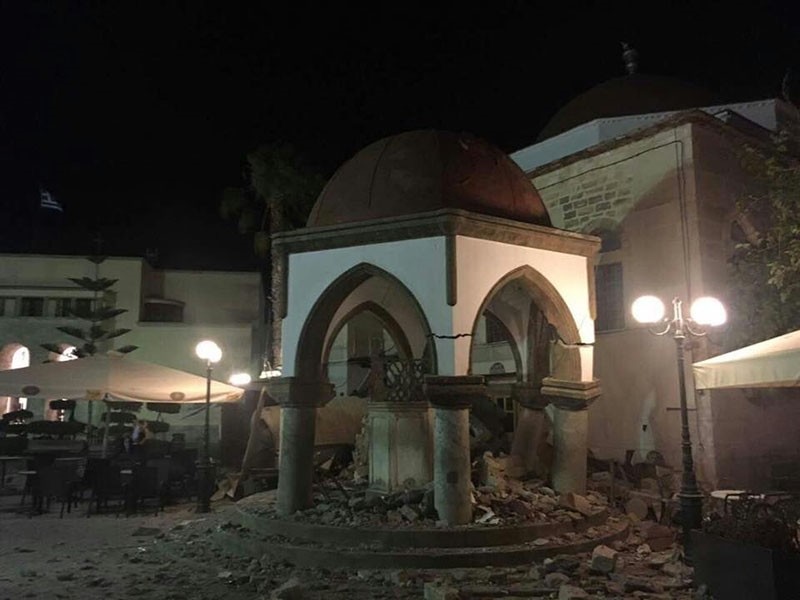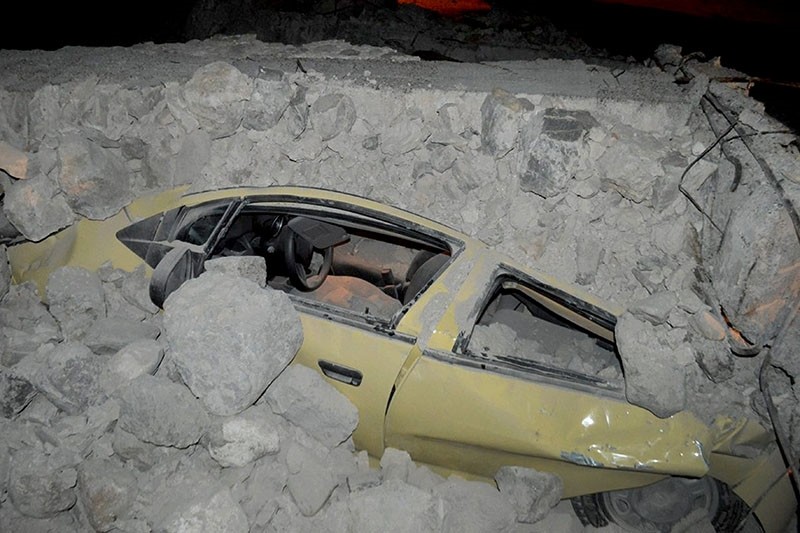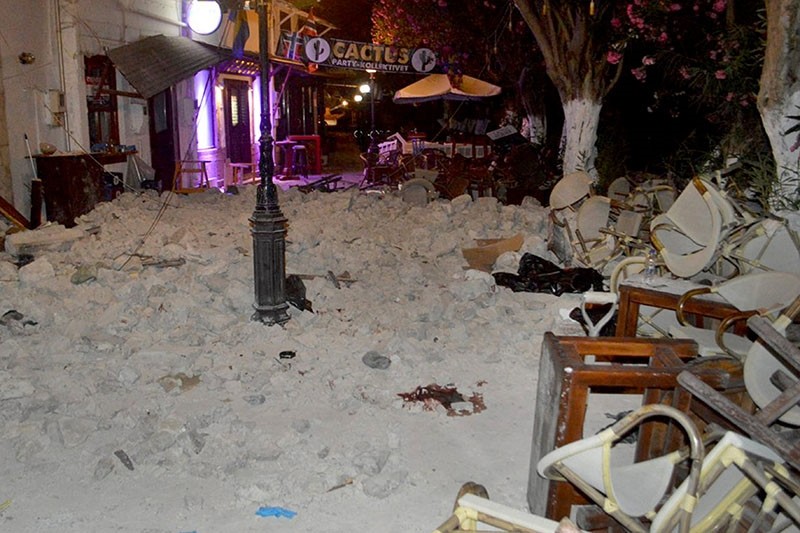 The harbor area in Kos was flooded, according to witnesses, damaging several boats, while social media users on the island posted pictures of badly damaged buildings and flooding.
The minarets on two old mosques and part of a church also collapsed. As day dawned, the clean-up operation began, with a plane and two helicopters arriving with rescue workers from Athens.
Kos's "old town" area, full of bars and other nighttime entertainment, was littered with broken stones in the streets. Hotels had shattered glass and other damage, leaving hundreds of tourists to spend the rest of the night outdoors, trying to sleep on beach loungers with blankets provided by staff.

The moment of Aegean earthquake, causing damage in Kos, was captured by a cafe's CCTV camera in Turkey's Bodrumhttps://t.co/WP0b8UwVPt pic.twitter.com/JwJJGOS3CC

— DAILY SABAH (@DailySabah) July 21, 2017

In Bodrum, some 80 people were hospitalized from minor injuries, mainly due to panic during the earthquake. A small tsunami was experienced in Bodrum and damaged some boats and vehicles in especially in the Gümbet neighborhood. Electricity was cut in Bodrum briefly due to damaged power lines, while locals reported cracks in a number of buildings.
Tremors have also been felt in Turkey's third largest İzmir, also in neighboring cities Aydın, Denizli and Antalya, causing panic among the residents.
The quake, which struck at 1:31 a.m. (2231 GMT on Thursday), was located off the coast of Bodrum. The U.S. Geological Survey (USGS) said that the quake was as big as magnitude 6.7, while Boğaziçi University's Kandilli Observatory maintains 6.6. It's epicenter was close to the Turkish resort town of Bodrum and the Greek island of Kos in the Dodecanese Islands archipelago.
The temblor was very shallow, only 6.2 miles (10 km) below the seabed, the USGS said.
Turkey's Prime Ministry Disaster and Emergency Management Authority (AFAD) stated on its website that the quake measuring 6.3 hit at 1.31 a.m. local time (2231GMT) at a depth of 7.8 kilometers (4.8 miles). AFAD later updated the magnitude to 6.6.

The region was hit by approximately 40 more aftershocks ranging in strength between magnitude-3.0 to 4.6, according to the AFAD, which warned locals not to stay indoors in damaged buildings.
In a press conference on Friday morning, Kandilli Observatory updated its initial prediction of magnitude 6.3 to magnitude 6.6. Over 160 aftershocks were recorded in the region, Observatory Director Haluk Özener said, with the biggest one being magnitude 4.8, and a 30 to 40 centimeter-high tsunami was also observed after the earthquake. Özener said that the tsunami waters swept between 10 and 100 meters (yards) in to the coast.

The moment when the quake struck the coast was also caught on camera.
Moment of 6.3-strong earthquake in Turkey's west coast caught on camerahttps://t.co/WP0b8UwVPt pic.twitter.com/VK9o1NItd0

— DAILY SABAH (@DailySabah) July 20, 2017
A magnitude 6.3 quake is considered strong and is capable of causing considerable damage, but the effects of this one would have been dampened by seas.
In June, a 6.3-magnitude earthquake shook a village on the Greek island of Lesbos, killing a woman and leaving more than 15 injured. The quake also caused panic on Turkey's Aegean coast.

Turkey is among the world's most seismically active countries as it is situated on a number of active fault lines, with the most potentially devastating one being the Northern Anatolia Fault (NAF), where the Anatolian and Eurasian plates meet.
The NAF, a strike-slip fault formed as the Anatolian plate was being pushed northwestwards by the Arabian plate, has produced devastating earthquakes throughout history, with the most recent ones being magnitude 7.4 and 7.2 earthquakes in northwestern Izmit and Düzce provinces in August and December 1999. The 1999 earthquakes killed thousands in Kocaeli, Adapazarı, Istanbul, Yalova and nearby towns in the northwest, which serve as Turkey's economic and industrial heartland.
In the latest earthquake-related disaster, more than 600 people died in October 2011 in the eastern province of Van after 7.2 magnitude quake and powerful aftershocks.
Years after the disaster, Turkey has seen an overhaul in measures to prevent damage from earthquakes, such as compulsory earthquake insurance and campaigns to raise awareness and inform the public about earthquake preparedness.
Additionally, the government has undertaken the ambitious project of urban transformation wherein old and crumbling buildings across the country are being demolished to make way for new, earthquake resistant buildings.
Scientists have warned that the epicenter of Turkey's next big earthquake is likely to occur under the Sea of Marmara, where the NAF passes.