The Turkish Red Crescent will build a 100,000-capacity camp in Cox Bazaar for the Rohingya people in an area allocated to it by the Bangladeshi government. Turkish Red Crescent President Kerem Kınık, who is in the region to witness first-hand the tragedy of the Rohingya people and find ways to alleviate their suffering, met with Bangladeshi officials. The steel homes that will be built for some 24,000 families will include a kitchen and bathroom. The camp will also have a mosque, school and a medical center to serve the refugees.
Speaking to Sabah newspaper, Kınık said, "The Bangladeshi government held a meeting in Dhaka on Sept. 14 to organize aid to the Rohingyas." He said the Bangladeshi government, together with Cox Bazaar governor, military officers had decided to coordinate all efforts, asking aid flowing in to be handed over to local officials for distribution.
Kınık said he had asked Bangladeshi authorities to designate an area for them to build accommodation for the Rohingya people. "We reached a deal after intense discussions. As per the agreement, Rohingya refugees will get the first all-inclusive camp in the region."
"There are about 1 million Rohingya refugees in the Cox Bazaar region. Turkey was the first country to get permission from the Bangladeshi government to build a permanent camp. We promised to build a camp that can be used if the current crisis ends and the Rohingyas return to their homes."
The Turkish Red Crescent camp will be within the larger Kutupaland Refugee Camp. Turkish engineers will soon studies on the land to build the camp, said Kınık. "NGOs will have designated places to build within our camp. There will be water wells, a school, medical center and mosque in the camp. There is nothing like it in Cox Bazaar. It will set an example to the world."
He also said the distribution of food aid and medical supplies will meanwhile continue.
ROHINGYA REFUGEE NUMBERS REACH 410,000
Rohingya refugees in Bangladesh could die due to a lack of food, shelter and water available for the huge numbers of them fleeing violence in Myanmar, an aid agency warned on Sunday.
Nearly 410,000 members of the Rohingya Muslim minority fled from western Rakhine state to Bangladesh to escape a military offensive that the United Nations has branded a "textbook example of ethnic cleansing".
"Many people are arriving hungry, exhausted and with no food or water," Mark Pierce, Bangladesh country director for the Save the Children aid agency said in a statement.
"I'm particularly worried that the demand for food, shelter, water and basic hygiene support is not being met due to the sheer number of people in need. If families can't meet their basic needs, the suffering will get even worse and lives could be lost," reported Reuters.
Bangladesh has for decades faced influxes of Rohingya fleeing persecution in Buddhist-majority Myanmar, where the Rohingya are regarded as illegal migrants.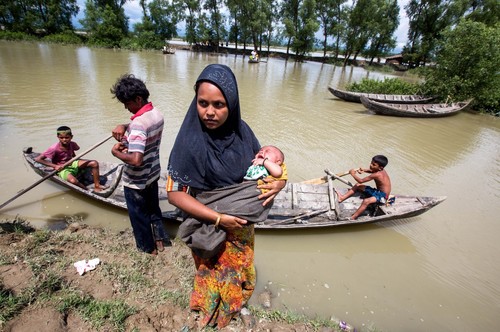 Turkey is the first country allowed by Bangladesh to build accomodations for the Rohingya.
Bangladesh was already home to 400,000 Rohingya before the latest crisis erupted on Aug. 25. Pierce said the humanitarian response needed to be rapidly scaled up. "That can only be done if the international community steps up funding," he said.
Rights monitors and fleeing Rohingya say the Myanmar security forces and Rakhine Buddhist vigilantes responded to the Aug. 25 insurgent attacks with what they say is a campaign of violence and arson aimed at driving out the Muslim population.
Myanmar rejects that, saying its security forces are carrying out clearance operations against the insurgents of the Arakan Rohingya Salvation Army, which claimed responsibility for the August attacks and similar, smaller, raids in October.
The Myanmar government has declared the group a terrorist organization and accused it of setting the fires and attacking civilians.
Bangladesh border guards said on Sunday the flow of refugees leaving Myanmar had eased off over the past day, apparently because bad weather had discouraged people from taking to boats to reach Bangladesh.
SUU KYI ADDRESS
Heavy rain over the weekend turned roads into mud, with countless Rohingya putting up shelters with bamboo and plastic sheets beside them.
"People are living in these muddy, awful conditions. You have to get them to some sort of space where aid can be delivered," said Chris Lom, of the international Organization for Migration. "Clean water and sanitation can only be delivered in a structured environment."
Bangladesh is planning a camp for the new arrivals but Lom said it was unclear how long it would take to build. "It all depends on the resources the government throws at it and the resources we throw at it."
There is no sign that violence has stopped in Myanmar, with smoke, apparently from burning villages, seen as recently as Friday, meaning more refugees are likely to cross.
Human Rights Watch said satellite imagery showed 62 Rohingya villages had been torched since the violence erupted. Myanmar says more than 430 people have been killed, most of them insurgents, and about 30,000 non-Muslim villagers have been displaced.
Myanmar government leader and Nobel laureate Aung San Suu Kyi has faced a barrage of criticism from abroad for not stopping the violence.
The military remains in full control of security policy and there is little sympathy for the Rohingya in a country where the end of army rule has unleashed old animosities and the military campaign in Rakhine State is widely supported.
Suu Kyi is due to make her first address to the nation on the crisis on Tuesday.
Her foreign supporters and Western governments that backed her campaign against military rule, and see her as the best hope for Myanmar's future, will be hoping to see her make a new commitment to protect the rights of the Muslim minority.At home, her supporters could be disappointed if she is perceived to be caving in to foreign pressure and taking the side of a Muslim minority blamed for initiating the violence.
The military has called for unity on the issue.
The political party founded by retired officers and trounced by Suu Kyi's party in the 2015 election, could be expected to take heart to see her support eroded by the crisis.

First Lady reaches out to Rohingyas

Emine Erdoğan, the wife of President Recep Tayyip Erdoğan, sent a letter to the wives of world leaders in an effort to mobilize aid for the Rohingya refugees. She wrote the letter only days after visiting Bangladesh to meet with some of the hundreds of thousands of Rohingya refugees who have fled violence and murder in Myanmar in recent weeks.

The first lady underlined the history of disenfranchising of the Rohingya minority in Myanmar, noting that over a thousand innocent people had died at the hands of the Myanmar's military and hundreds of thousands forced to flee since Aug. 25.

She wrote about her impressions of her visit to the Kutupalong refugee camp on the Bangladesh-Myanmar border.

"As a mother, woman and a human being, I believe we need to build a world where everyone can live with each other irrespective of their ethnicity or religion," Emine Erdoğan wrote, before calling on all to work for world peace.