The Turkish Airlines (THY) flight from Istanbul to Montreal landed back at Istanbul's Atatürk Airport after a young passenger fainted, circling above the Marmara Sea for seven hours and 22 minutes to burn fuel necessary for an appropriate landing weight.
TC-JOA Turkish Airlines Airbus A330-300, took off from Atatürk Airport at 3:33 p.m. local time Friday headed to Montreal. Shortly after departure, a 16-year-old passenger fainted.
The captain of the aircraft contacted the Atatürk Airport Traffic Control tower and got permission for an emergency landing.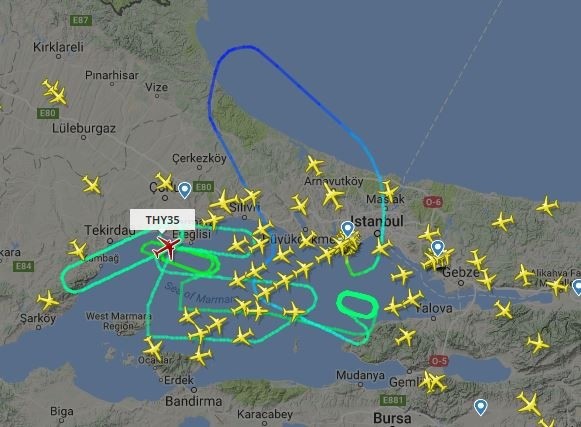 To reach the appropriate fuel weight for landing, however, the pilot continued to fly the plane for seven hours and 22 minutes. At 10:55 p.m., after reaching a suitable weight, the aircraft touched back down in Istanbul.
The Airbus A330-300 burns 6 tons of fuel per hour, meaning the pilot's Marmara tour cost 75,000 Turkish lira ($20,600) in fuel.
The sick passenger was reported to be in good health after medical personnel assisted her at the terminal.