A Turkish paraglider got more air time than expected when her parachute snagged on a power line, leaving her hanging for two hours in southern Turkey.
Nurcan Kaya, 22, was paragliding in the Pazarcık district of Turkey's southern Kahramanmaraş province when her parachute caught on a 154,000-volt power line.
Kaya hung mid-air for two hours before a team of medical personnel and firefighters rescued her.
Kaya had traveled to the area from Adıyaman, a neighboring province, to paraglide with her friends. After jumping from a hilltop in the Narlı district, Kaya was blown off course by strong winds, causing her parachute to catch on the electric lines.
Her friends called in the emergency, bringing medical and rescue personnel along with Turkey Electric Transmission company (TEİAŞ) workers to the scene.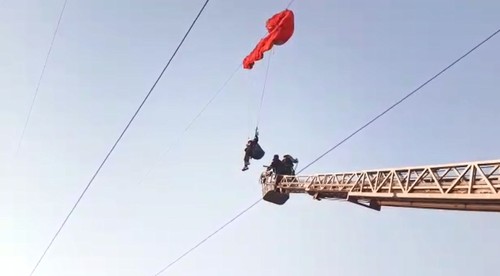 After TEİAŞ cut electricity to the lines and fire crews inflated a large cushion to pad a possible fall, rescue teams were able to get Kaya safely to the ground.
She was later taken to the hospital by ambulance and quickly discharged after a positive health check.