Valerios Leonidis, Greek weightlifting champion who was a friend and rival of deceased Turkish Olympic weightlifting champion Naim Süleymanoğlu, showed the true nature of sportsmanship once again when he attended the funeral of the "Pocket Hercules" on Sunday.
Greece's Leonidis, Naim Süleymanoğlu's greatest weightlifting rival, kisses Turkish flag draped coffin in funeralhttps://t.co/A7drBfaGFh pic.twitter.com/NiMtdnI12H

— DAILY SABAH (@DailySabah) November 19, 2017

Among the dozens of fellow athletes and dignitaries at Süleymanoğlu's funeral, Leonidis stood out as he quietly approached the late weightlifter's coffin draped with a Turkish flag and kissed it. He was probably the only Greek national to attend the funeral and few recognized this 51-year-old former weightlifter from Greece.
Yet, it was Leonidis who inadvertently cemented Süleymanoğlu's fame as a record-breaker. In the 1996 Atlanta Olympics, he and Süleymanoğlu were in the spotlight as two tough rivals expected to bring home more than a few titles.



Historic hostilities between Turkey and Greece dating back to Turkey's War of Independence made their rivalry tenser. Süleymanoğlu was striving for the third Olympic gold in Atlanta when he got behind the bar carrying a weight of 145 kilograms (320 pounds). He succeeded but there was more to come if he aimed for the gold.
A bit stressed, he managed to lift 180 kilograms anyway, to the applause of hundreds of fans shouting "Naim."
Then, Leonidis took the stage and managed to lift the same weight to the chagrin of Süleymanoğlu. In turns, they managed to outdo each other up until lifting a weight of 190 kilograms. As the screams of "Turkey, Turkey!" echoed in the sports hall, "Pocket Hercules" kept his hands glued to the bar carrying 187.5 kilograms of weights.
Nervously, he watched Leonidis handling the bar carrying 190 kilograms in the last turn of the game. The Greek weightlifter waited and finally made his move for the bar. He pushed himself to the limit but to no avail. His failure made Süleymanoğlu a winner and a sports hero to be remembered for years to come.
Leonidis, who nowadays serves as a weightlifting coach, told reporters after the funeral ceremony that he was "devastated" to learn about the death of his Turkish "friend."

Expressing that Süleymanoğlu's death was a great loss for the sports world, he said, "Every moment I spent with him was precious. I never forget Atlanta. He took gold and I took the silver [medal]. Before the medal ceremony, I told him 'you are the best' and he responded, 'We are the best.'"
Bulgarian-born Süleymanoğlu died Saturday at the age of 50 in Istanbul after remaining in intensive care. He was admitted to hospital on Sept. 28 due to liver failure caused by cirrhosis and underwent a liver transplant on Oct. 6. He remained in intensive care following a brain hemorrhage and underwent further surgery on Nov. 11, according to a medical statement.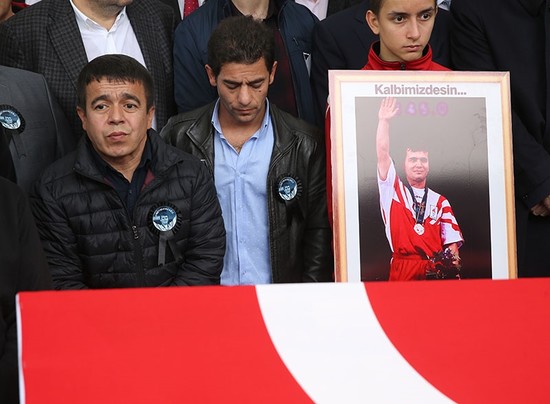 Şafak Keskin, Turkish weightlifting champion in 14-year-old category, holds Turkish Olympic champion Naim Süleymanoğlu's portrait during his funeral, whereas another Turkish Olympic gold winner, Halil Mutlu (L), looks on, in the Fatih Mosque in Istanbul, Nov. 19, 2017. (AA Photo)

Turkey's Prime Minister Binali Yıldırm, Deputy Prime Minister Hakan Çavuşoğlu and Sports and Youth Minister Osman Aşkın Bak were among the various politicians who attended the funeral.
Halil Mutlu, another Bulgarian-born weightlifting athlete who was crowned three times Olympic Champion, five times World Champion and 10 times Europe Champion, also attended the funeral along with other prominent names in Turkish sports scene, including retired Turkish national team and NBA star Hidayet Türkoğlu, who now heads the Turkish Basketball Federation.