When it comes to olive oil, locals in a southern Turkish neighborhood think a little extra effort is worth the signature flavor that keeps admirers coming back for more.
While even today's top olive oils are produced by machines, residents of Tokaçlı neighborhood in Hatay province's Altınözü district have preserved the age-old pressing methods they say are key to a full-bodied flavor.
"Because this is an oil produced without touching a machine, it has a delicious, unique flavor," local resident İbrahim Çilingir told Anadolu Agency.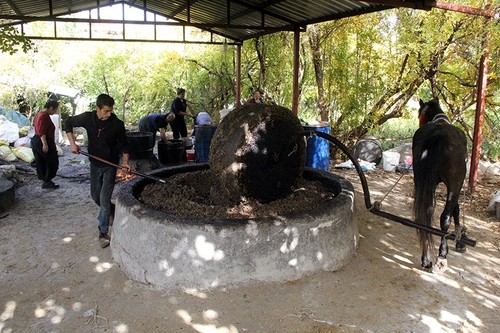 The neighborhood has been making its signature oil for years, explained Çilingir, unwilling to forgo flavor for an easier substitute.
"Of course the work has been mechanized over the years but we, as the people of Tokaçlı, didn't give up making our kind of oil."
The process is labor-intensive, explains Çilingir. Early in the morning, neighbors collect olives from their gardens to be pressed under a one-ton, rotating stone. After the fresh olives are crushed by the horse-powered press, the dough-like material is rested in bins for a time.
Then, neighbors hand-squeeze the oil from the olives, pouring it into boiling water. After the oil has been refined, it is collected from the surface of the water and bottled.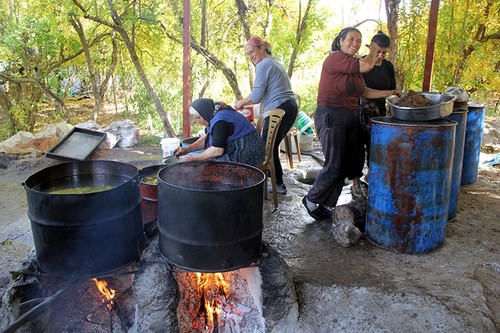 The result is a full-flavored olive oil, which locals call "olive water."
Many native to the area have moved away over the years, but they still come back for the oil, says Çilingir.
"80 percent of our neighborhood are expatriates in Europe," said Çilingir. "Since they can't give up the taste of this oil, they come here every year during this season and take olive oil."
Çilingir says locals use the oil in a variety of ways, eaten in local dishes and enjoyed plain with bread.
At this point, the 4-5 tons of oil produced annually in the neighborhood is consumed by its residents. However, Çilingir says more could be produced if a market for the oil opens.
"We intend to establish a cooperative in the future," he said. "We want to introduce our olive oil to all of Turkey."