The International Day of Persons with Disabilities was marked in Turkey on Dec. 3 with various social events across the country.
Disabled citizens attended a bicycle ride in Istanbul, organized by Istanbul's Bağcılar Municipality, going from Europe to Asia by crossing the July 15 Martyrs' Bridge (Bosporus Bridge).
Handicapped athlete Abdulkadir Özol, who also attended the ride, congratulated all disabled people of the world, highlighting that having an opportunity to take a part in such an event made him very happy.
"I recommend all my disabled friends to keep on going and to never lock themselves up at home," he said.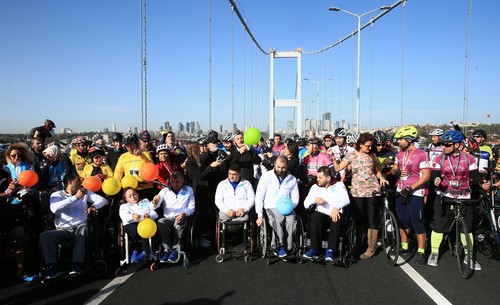 Many people joined marches that were held across the country aiming to support Turkey's disabled community, voicing their demands for social and economic inclusion.
To protest their ongoing problems, participants in Istanbul, Ankara, Izmir and Hatay poured yoghurt in water bodies, in reference to the folk tale involving 13th century Anatolian philosopher Nasreddin Hodja trying hopelessly to ferment a lake.
Famous former soccer players, players of Turkey's national amputee football team, which became European champions in October, and celebrities gathered in Istanbul in a friendly football match aiming to buy wheelchairs for disabled people with the profit from the game.
Former FIFA referee Erman Toroğlu, former Turkey goalkeeper Rüştü Rençber and forward Tanju Çolak, and actor Cansel Elçin were among the participants of the game.
Similar matches were also organized by Üsküdar and Bakırköy municipalites in Istanbul, in addition to Bursa and Denizli provinces.
The annual observance of the International Day of Disabled Persons was proclaimed in 1992, by the United Nations General Assembly resolution 47/3. It aims to promote the rights and well-being of persons with disabilities in all spheres of society and development, and to increase awareness of the situation of persons with disabilities.