Turkey's Ministry of Culture and Tourism has requested that France return china tiles stolen from Sultan Selim II's tomb at the Hagia Sophia during a so-called restoration in the 1890s.
Some 60 Iznik tiles were stolen by Albert Dorigny of France in 1895 and replaced with imitation tiles under the pretext of restoration of the sultan's tomb in the Hagia Sophia complex. The stolen tiles were later displayed in Paris' Louvre.
Dorigny, who was Sultan Abdülhamit II's dentist, brought the tiles to France on the pretext of cleaning, but the tiles that returned were fakes.
The fake tiles, which were added to the left side of the entrance door, can be easily identified by a stamp indicating they were made in Sevres, France, Hagia Sophia Museum Director Hayrullah Cengiz told Anadolu Agency.
"When you look at the two tiles [next to one another], you will see the difference between the panels," said Cengiz.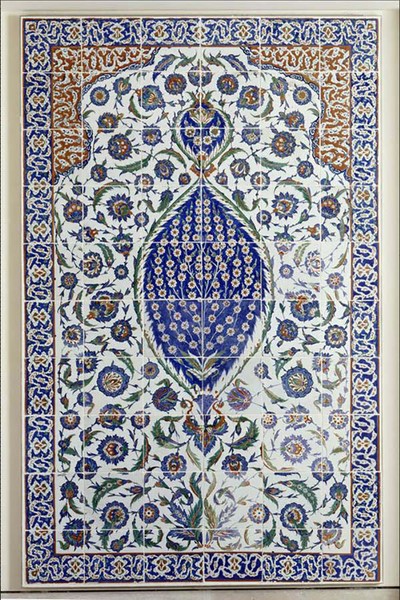 The imitation tiles were identified during the restoration of the tomb in the early 2000s. Although at first the imitation was difficult to distinguish from the original, time revealed the theft.
"The color of the fake [tiles] is faded, and on the other side, the real tile panel stands just like 400 years ago, just like it was built yesterday," said Cengiz.
"This is actually the best example of 16th century Iznik tiles," he added, referring to the originals crafted in Turkey's western Iznik province, known for its exquisite production of decorated ceramic.
"These china tiles were being exhibited in the Islamic Works section of the Louvre Museum, France's most famous museum. But now they have been removed," said Cengiz, noting that Turkish officials have met with the French Ministry of Culture and Tourism to request their return, but have not yet received a positive response.
Turkey has criticized the Louvre for displaying the tiles as an act of "art theft."
Sultan Selim II's tomb was built by the great architect Sinan, completing the structure three years after the sultan's death in 1577. The octagonal tomb is coated with marble, and ceramic tiles of blue, red, green and purple decorate the sides of the entrance door.
The tomb, which contains 42 sarcophaguses of the sultan and his family members, was closed in 1925 for restoration.
The Hagia Sophia, where the tomb is located, is one of Istanbul's most iconic historic sites, attracting nearly 3.3 million visitors each year. Built as an Orthodox Christian basilica during the reign of Byzantine Emperor Justinian I in 537, the famous domed structure, known as Ayasofya in Turkish, was converted into a mosque following Sultan Mehmet II's conquest of the city in 1453. Turkey's first President and founder of the Republic, Mustafa Kemal Atatürk, transformed the building into a museum in 1935.