Yusuf and Zeynep were the most popular boy and girl names respectively for babies born in Turkey in 2017.
Yusuf has been the most popular boy name for the past five years, and has remained on top of the list this year, followed by Eymen, Ömer, Emir, Miraç and Mustafa.
Zeynep has remained as the most popular girl name for a second consecutive year, followed by Elif, Defne, Hiranur and Ebrar.
Zeynep was the most popular name in 63 Turkish provinces.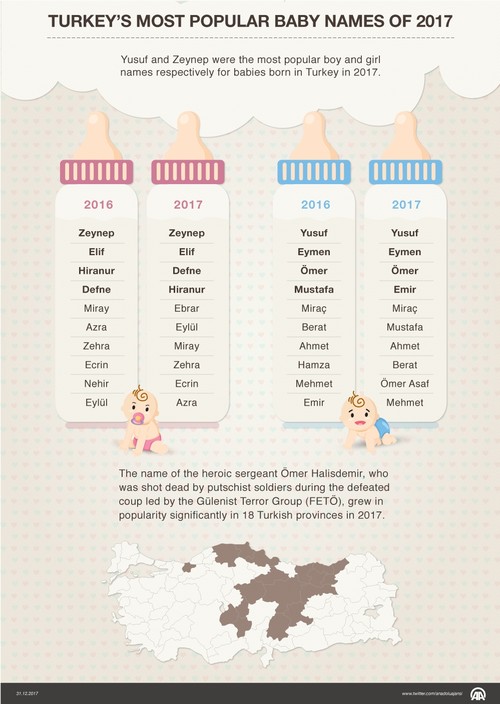 The name of the heroic sergeant Ömer Halisdemir, who was shot dead by putschist soldiers during the defeated coup led by the Gülenist Terror Group (FETÖ), grew in popularity significantly in 18 Turkish provinces in 2017.
Ömer Halisdemir shot one of the key FETÖ generals named Semih Terzi, in one of the breaking points of the coup.
Halisdemir became the most popular name in Turkey's Niğde, which was the sergeant's hometown.
Other names that grew in popularity significantly in the last year were Ahmet, Berat, Ömer Asaf and Mehmet for boys, and Eylül, Miray, Zehra, Ecrin and Azra for girls.