A major catastrophe was averted on late Saturday at Trabzon Airport when a passenger jet slid off the runway down an embankment, coming within meters of plunging into the Black Sea.
Images of the plane dangling on a cliff revealed how 162 passengers and six crew members escaped uninjured miraculously from the accident. All passengers were evacuated while work was underway on Sunday to remove the Boeing 737-800 from the site.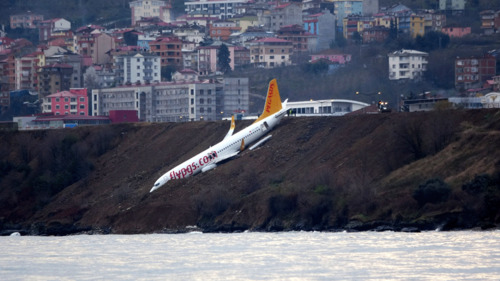 Trabzon Governor Yücel Yavuz said all 162 passengers and six crew on board were evacuated and safe early Sunday. Yavuz said the cause of the accident was not yet known and the airport closed until 08:00 a.m. local (05:00 GMT).
Local authorities have launched an investigation into what caused the plane to skid off the runaway – although signs point to the cold, icy conditions. Moreover, due to the rugged terrain of the region, the two airports located in Trabzon and Ordu were built on reclaimed land from the sea.
The plane, belonging to private low-cost carrier Pegasus, had arrived from the capital Ankara. The airport was closed to all flights up until 8 a.m. on Sunday morning.
"We stayed inside the plane for at least 20 minutes waiting for someone to help us," said Fatma Gördü, one of the passengers.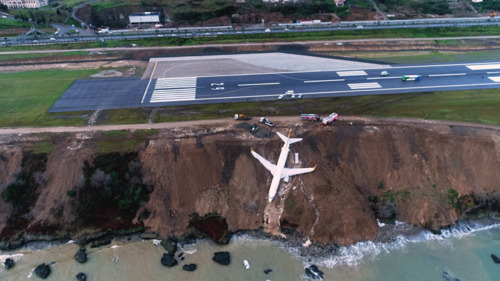 She said they first heard a loud noise and then the plane started "shaking" a short while after the plane landed and was advancing on the runway.
"It then swung to one side and back of the plane moved upwards. There was panic, people were screaming," she said, describing the moments of horror.
Gördü said they were instructed to leave the plane by a back exit but people were so panicked that they were crushing each other.
Meanwhile, Yüksel Gördü, another passenger said it was "a miracle" that they survived.
"The plane could have caught fire or fell into the sea. I thank God it didn't. I feel like going crazy whenever I think about those moments," he said.
Flights resumed at the Trabzon International Airport on Sunday morning, after being temporarily suspended following the incident.