Bad weather disrupted daily life in the western city of Izmir on Thursday, with rising sea levels flooding the city's famous Kordon coastline, while in Istanbul, ferry services were temporarily suspended.
Northeaster winds up to 100 kilometers in speed (62 mph) battered Turkey's western coasts Thursday, gradually dropping temperatures and adding to heavy rainfall that started late Wednesday.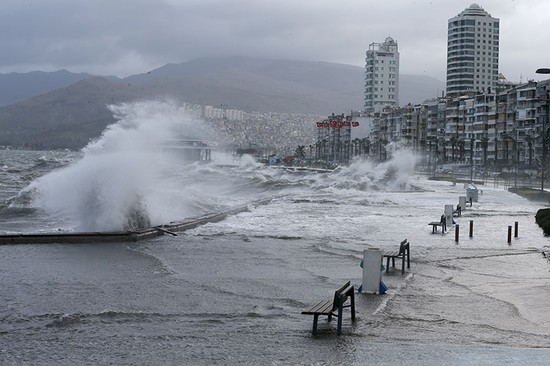 Izmir, the country's third-largest city located on the tip of a gulf, was the scene of surreal images of streets inundated by floodwater seeming to merge with the sea.
The severe storms made moving outside difficult, with television images showing people struggling to walk. Shops and buildings located on the Kordon in Konak district were flooded with shopkeepers trying to evacuate the floodwater.
Locals and shopkeepers expressed their anger to the municipality, saying clogged drains and inadequate infrastructure frequently cause similar troubles.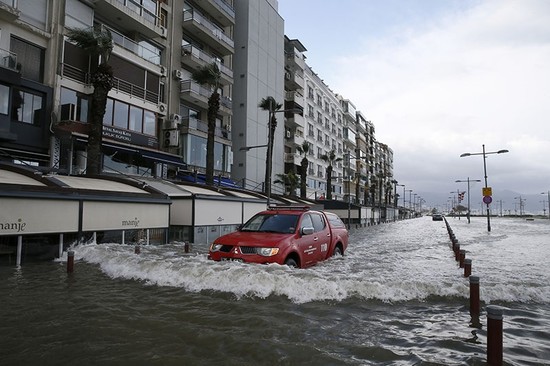 The municipality responded in a statement saying that winds exceeded 70 kilometers in speed (43 mph), causing waves of 4 meters (13 feet) in some locations. It added that municipality units intervened all night to address floods overflowing from drains.
Ferry services had been canceled until Thursday afternoon, but were resumed as of 4 p.m. local time.
Meanwhile in Istanbul, ferry services connecting the city's two sides divided by the Bosporus were interrupted for hours. Ferries crossing the Sea of Marmara to Yalova and Bursa provinces were also canceled.