A Russian man who was paralyzed and lost his memory after a traffic accident in 2008 and had been taken care of by a Turkish mother in Turkey's southern Antalya province died after spending 10 days in the intensive care unit over pneumonia, reports said Tuesday.
Gülsüm Kabadayı, a Turkish woman who had been taking care of the paralyzed Russian boy after she first met him at the hospital in 2008, said she had cared for him as if he was her own son.
"I am so sorry, I've done everything that I could for him but we couldn't save him," Kabadayı said, noting that she is devastated by the loss of her beloved son.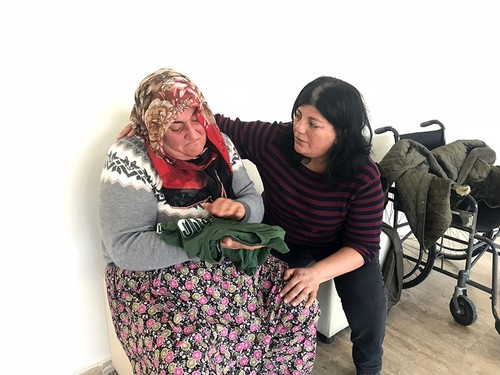 Gülsüm Kabadayı embraces a t-shirt of her adopted paralyzed Russian son who died after 10 years, Jan. 23, 2018. (AA Photo)
She noted that he died as a result of multiple organ failure due to pneumonia.
Named Umut (Hope in Turkish) by his new mother, the Russian man was found unconscious after being hit by a bus in the city of Antalya, a Mediterranean resort popular with Russians.
Gülsüm Kabadayı became his foster parent after seeing him at the hospital while taking care of a relative, after officials were unable to identify him or find any relatives.
Umut is expected to be buried in Antalya's Korkuteli district.