There is no doubt that Turkey's third-largest city Izmir has a feminine nature. Legends say its name was derived from Smyrna, a leader of the famed female warrior tribe Amazons that once lived in northern Turkey. It is a beautiful city with a calm climate and a tolerant lifestyle, passionately-loved by its inhabitants and capturing the hearts of most of its visitors. Women from Izmir are also widely-regarded as the most beautiful in Turkey, though those who dispute the idea say it is a matter of self-confidence.
This self-confidence shows itself in the city services too, since globally, it is rare to see an all-female firefighter brigade putting out blazes or a subway mechanic crawling underneath the cars and checking rolling equipment.


There are hundreds of women working in the ranks of the Izmir Metropolitan Municipality, making up some one-fourth of all municipal employees. In the past, women were generally employed in cleaning services or in clerical positions, but now, more and more women are signing up for jobs stereotyped to be only fit for males due to physical strength.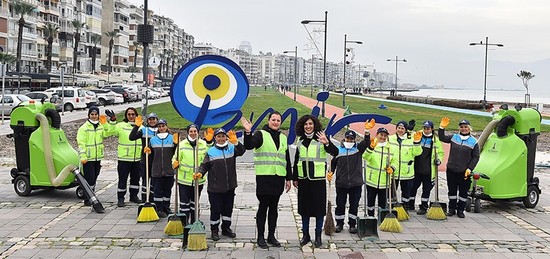 But this perception quickly erodes when locals see that the firefighters climbing 30-meter fire ladders with their heavy suits or withstanding 5-bar pressure from fire hoses are actually women.
Hülya Ercan, 28, said that as a child, she never thought of becoming a firefighter since she had never seen one or known women firefighters existed at all.
"It was not my dream job in childhood, but I have always wanted to have a dynamic and different job. I wanted to touch people's lives and extend a helping hand to them. Today I intervene in all kinds incidents like fires, rescuing people and animals, traffic accidents and suicides," Ercan said.
She recalled that her family was concerned at first for her well-being in light of the dangers of the job, but they were supportive after she began and now they are proud of her work.
Despite being a firefighter for the last five years, Ercan notes that she still faces questions about whether she really intervenes in fires or takes part in rescue operations. "They can't believe that a woman could do such a job, but we're doing it and we're here."
In the city's 180-kilometer (112-mile) -long rail systems, women fill all types of positions, from subway operator to tram maintenance or catenary system repairs. Most Izmir residents have grown familiar with female bus drivers since the mid-1990s and train operators since the mid-2000s, but seeing women taking part in mechanical maintenance jobs is quite new.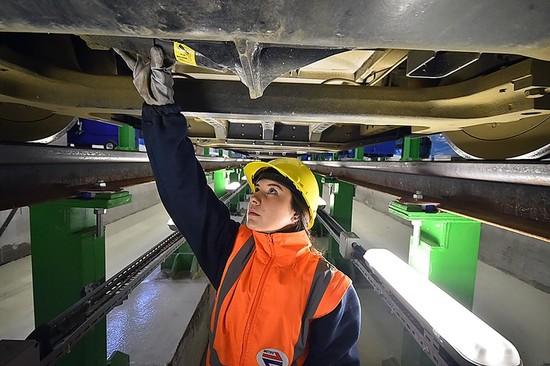 Bahar Aksu, a planning and mechanical maintenance engineer at the Izmir Metro, says she's proud of her job. "It is hard working at a repair shop but it is not impossible to achieve. When I first started here and took my toolbox to repair the tram, I heard people saying, 'What are you doing, please allow us.' But when I get more involved, we started working together by learning more from each other," Aksu said.
Working as a tram driver for the last two years, Emine Ambarcı says her family and friends were very surprised in the beginning, but got used to it. "I chose this job because it was my dream and it was interesting. I actually wanted to demonstrate that women can do this job. Our occupation requires a lot of attention and devotion," Ambarcı said.
"Izmir is used to seeing women in subway operator seats, and people are not surprised to see us any longer. Males, females, children approach us with kindness. Children wave [at us]. My family and my friends are proud of me."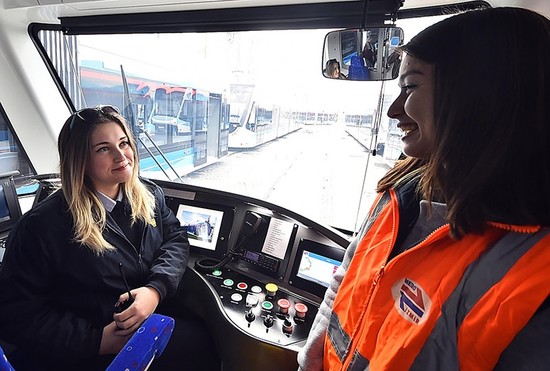 Tuğçe Tiriç graduated from rail systems engineering and now works for the municipality, taking part in the maintenance of catenary system, tram tracks, transformers and toll validators. "I'm very happy with my job right now. We constantly make rounds on the tracks to keep transport flowing for the people of Izmir," Tiriç said.
Despite perpetual risk of confrontation with shopkeepers, hawkers or beggars, Sema Çiftçi has worked as a municipal police officer for the last 11 years and she says her training on legislation, close defense tactics and anger management helps her to overcome obstacles.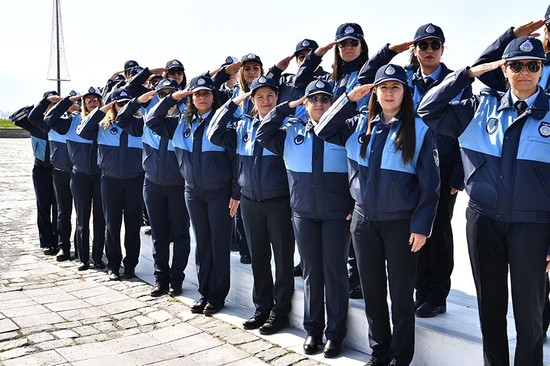 "Our duty requires working on 24-hour basis shifts, without weekends or religious and national holidays. We operate in the farthest backstreets and in the city center. We know every point of the city. We know the city not only street-by-street or neighborhood-by-neighborhood, but also by its people, village headmen, children, shopkeepers, local servicemen. This makes us more effective individuals in our social lives," Çiftçi said.