Turkey's first lady Emine Erdoğan on Thursday made her first post on Instagram, with four photos instantly gathering thousands of likes.
Posted to commemorate International Women's Day, Erdoğan's photos featured herself with women involved in various organizations she supports.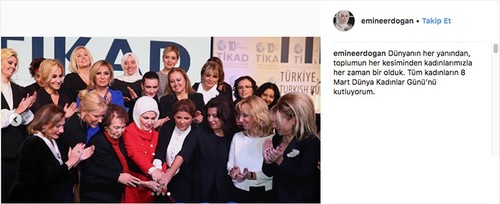 Congratulating women around the world, the caption read: "From all parts of the world, from all walks of society, we are always one as women."
The post received over 14,500 likes in its first few hours. It was also shared on the first lady's official Twitter account.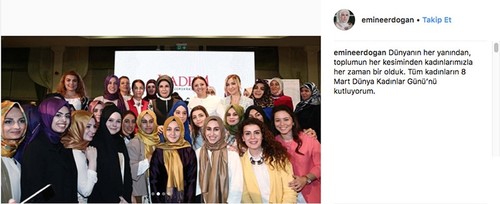 Erdoğan's Instagram account has 196,000 followers.
Erdoğan has taken an important role as a political and social figure, accompanying her husband President Recep Tayyip Erdoğan on international trips and fostering strong diplomatic relations with female leaders around the globe. She has a strong public voice, often speaking at public gatherings, and lending support to civil society organizations in efforts ranging from literacy to women's rights.