The all-female crew and passengers of a private jet died in a fiery plane crash in Iran Sunday evening prompting questions after eyewitnesses reported seeing the plane on fire before the crash.
The plane was carrying eight socialites and three crew members who were returning for a bachelorette party in Dubai for Mina Başaran, one of the victims.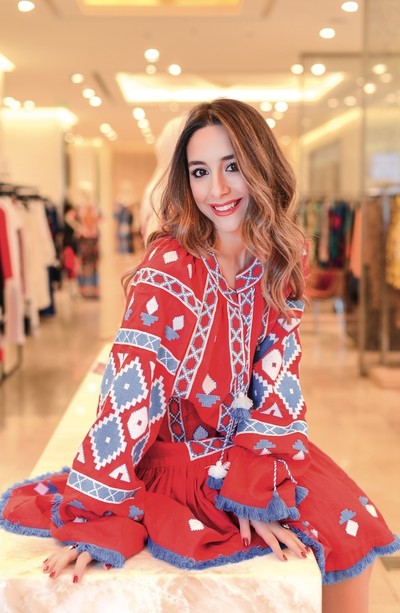 Unconfirmed media reports said balloons filled with helium gas in the plane, apparently hung as decorations for partygoers, exploded mid-air. Yesterday, investigators found the black box of the plane, which will be handed over to Turkish authorities. All of the bodies were recovered from the crash site in the Zagros Mountains outside of the city of Shahr-e Kord which lies some 370 kilometers south of the Iranian capital Tehran. The bodies were being brought down from the mountain by helicopters when Daily Sabah went to print. Relatives of the victims had also arrived in Shahr-e Kord yesterday.
The Turkish Ministry of Transport announced that the plane crashed shortly after making a call about a "technical failure." Turkey sent a search and rescue team to the area to help recover bodies and wreckage.
Başaran, 28, who was scheduled to marry her boyfriend Murat Gezer next month, and her friends boarded the flight from United Arab Emirates' Sharjah International Airport. The private jet, a Bombardier CL604, suddenly lost altitude after rapidly gaining altitude according to a flight-tracking website. Sharjah civil aviation authorities said in a statement late Sunday night that the plane did have any maintenance while on the ground at the airport.
Authorities announced that the private jet was owned by Başaran Investment Holding, which is run by Hüseyin Başaran, father of Mina Başaran. The young woman was only heir to her father's business empire that operates in fields ranging from food to hotels and construction. Başaran named a skyscraper he was building in Istanbul's Kadıköy district after his daughter. Educated in Britain, she was working in her father's company. She recently posted photographs on Instagram of what appeared to be her bachelorette party, which included eight women. Among those photographs was an image of the plane posted three days ago. In it, Başaran posed on the tarmac carrying flowers, wearing a denim jacket reading "Mrs. Bride" and the hashtag "#bettertogether." In another picture, she was holding heart-shaped balloons inside the plane. On Saturday, Başaran posted a picture with seven smiling friends from a Dubai resort. The last videos posted to her account showed her enjoying a concert by the British pop star Rita Ora at a popular Dubai nightclub.
Zeynep Coşkun, another victim, was also scheduled to wed in May. She was the daughter of a prominent businessman from northwestern city of Bursa. Aslı İzmirli, a jewelry designer, was another victim who accompanied Başaran to Dubai. On her Instagram account whose status was switched to private after the crash, she shared photos of her trip to Dubai. Jasmin Baruh Silani, founder of Baguette Jewellery, and Liana Hananel, who runs the Lily and Rose celebrity swimwear brand, were two other victims. Ayşe And, another friend of Başaran, was a clinical psychologist. Sinem Akay, 27, daughter of Mavi Jean's founder Çetin Akay, had launched her own denim brand Casa di Denim last year. Burcu Gündoğar Urfalı, like her friends, was in the fashion business, running a company producing corporate uniforms.
The plane's co-pilot Melike Kuvvet was one of the first female pilots in the Turkish Air Forces. While serving as a captain, she was dismissed from the military in 2012 for what her friends called a plot by the Gülenist Terror Group (FETÖ), whose infiltrators in the military sought to weed out those opposing them in the military. She switched to the private sector and joined Başaran Holding's aviation arm last August.