A tragedy that rocked Turkey's socialite world last week achieved closure as families and friends attended funerals yesterday for eight women who died when the private plane they were on crashed in Iran.
The eight women, killed along with three female crew members, were socialites who were returning from a bachelorette party for Mina Başaran. Başaran, who was to marry her fiance Murat Gezer next month, had taken her close-knit group of friends to Dubai where they attended a pop concert and lounged at a resort. Their plane, owned by the bride-to-be's tycoon father Hüseyin Başaran, crashed in Iran's Zagros Mountain on Sunday.
Turkish social media was awash with tributes to the women who were in their 20s, with users lamenting the shattered dreams of the victims. Başaran was to marry to Gezer on April 14 at Çırağan, an Ottoman-era palace on the Bosporus shore in Istanbul, and another victim, Zeynep Coşkun, was scheduled to marry her fiance in May. The other women were newlyweds, and one of them was pregnant, media reported. Government officials paid their condolences to the families, and President Recep Tayyip Erdoğan called Hüseyin Başaran to extend his condolences.
In Istanbul, the first funerals were held for Liana Kalma Hananel and Jasmin Baruh Siloni. Both women were members of Istanbul's Jewish community. Hananel was buried at Arnavutköy Jewish cemetery, and a separate ceremony was held for Siloni at the Ashkenazi Jewish cemetery in the Ulus district. İsak Haleva, the chief rabbi in Turkey, attended both ceremonies.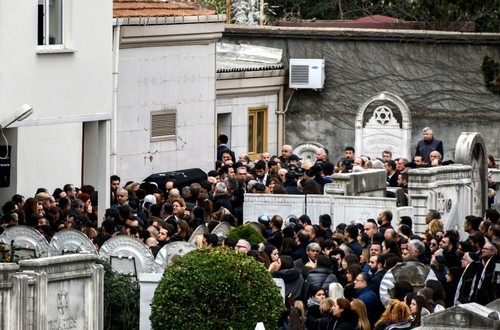 Mourners carry the coffin of Liana Hananel at the Arnavutköy Jewish cemetery.
Hananel had an eight-month-old daughter. The young woman was a renowned figure in celebrity fashion as a founder and designer for swimwear company Lily and Rose. Siloni, a jewelry designer, was co-founder of Baguette Jewelry in Istanbul's upscale Nişantaşı district.
Funerals were held at the Zincirlikuyu cemetery in Istanbul for Ayşe And and Aslı İzmirli. And was a clinical psychologist and was making marriage plans before the crash claimed her life. A photo of the young woman cuddling a dog accompanied an obituary with the heading: "Our angel left this world." İzmirli was to marry her Lebanese fiance Bassam Houssami. Houssami, in tears, shouldered the coffin of the young woman, who worked as a jewelry designer. Both women were close friends since high school at Istanbul's prestigious Saint Benoit. Her family placed a white scarf on the coffin, a tradition for deceased brides-to-be. İzmirli was to marry Houssami this summer.
Funerals were held for Mina Başaran and Burcu Gündoğar Urfalı at a mosque in Istanbul's Ataköy district. Hüseyin Başaran barely composed himself as he embraced the coffin and cried. Mina, 28, was an heir to her father's business empire and was working in one of Başaran Investment Holding's companies. Her parents were very fond of the young woman and named a skyscraper the company built in Kadıköy after her.
Another funeral was held in the central city of Konya, the hometown of co-pilot Melike Kuvvet. Kuvvet was an Army captain and worked in civil aviation after she was dismissed from the Army over what her friends called a conspiracy by the Gülenist Terror Group (FETÖ) to expel military staff and replace them with its members. Friends left the uniform of a major on Kuvvet's coffin. She expected to be promoted to major once she returned to the Army after the end of a legal battle. A funeral was held for Eda Uslu, a flight attendant, in Istanbul's Beylikdüzü district where her family lives.
As for the pilot, Beril Gebeş, a search is still underway to find her remains. Media said a DNA analysis was still being examined to identify her.
Funerals were expected to be held for Sinem Akay and Zeynep Coşkun when Daily Sabah went to print. Akay, 27, was the owner of a denim company and a close friend of Başar. Coşkun, an architect, was scheduled to marry in May.
Meanwhile, an investigation is underway into the cause of the crash. The private jet, a Bombardier CL604, suddenly lost altitude after rapidly gaining altitude. The plane's black boxes were recovered from the crash site. The aviation company had denied that lack of maintenance caused the crash, while aviation experts list cabin pressure forcing pilots to lose control, a fire inside the plane or strong turbulence as potential causes for the crash.