The Turkish military continues to provide support for the delivery of humanitarian assistance in Syria's Afrin, while the Humanitarian Relief Foundation (IHH) on Friday began distributing hot meals to residents of Afrin town center, which was recently cleared of terrorists by the Turkish military and the Free Syrian Army (FSA) in Operation Olive Branch. Some soldiers also participated in the distribution of humanitarian aid, which was captured in video footage.
IHH coordination team's Enes Kandemir told Anadolu Agency hot meals were being given to 10,000 people per day through a food bank that was established after the town was liberated.​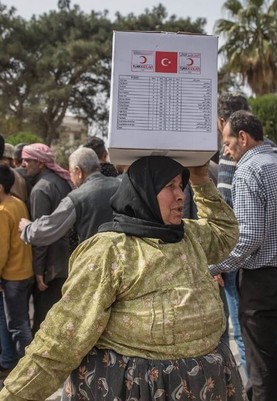 Kandemir said they distributed bread, potatoes, flour and water to 1,000 families in Afrin.
He added the IHH also provided diapers and baby food in the regions cleared of terrorists.
In a statement released Saturday, the Turkish Armed Forces (TSK) said that Turkish soldiers continue to participate in the distribution of food and aid supplies and clear mines and improvised explosive devices (IEDs) from the area.
Turkish soldiers participate in the distribution of humanitarian aid in Syria's Afrin, which has been liberated from PKK/YPG terrorists in #OperationOliveBranchhttps://t.co/KzOhpJXcg2 pic.twitter.com/1RhBqrlsuK

— DAILY SABAH (@DailySabah) March 24, 2018
"The Turkish Armed Forces provide the necessary support for the delivery of humanitarian aid in the region and continues its work to make sure that life returns to normal," the statement said.
Turkish aid agencies have stepped up their humanitarian assistance efforts for Afrin since Turkish troops and FSA fighters liberated the town center from YPG/PKK terrorists on March 18.​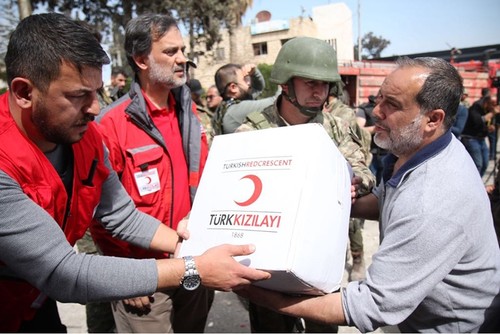 Turkey launched Operation Olive Branch on Jan. 20 to clear all terrorist elements from Afrin, amid growing threats from the region.
The Turkish General Staff has strongly maintained that the aim of the operation is to establish security and stability along Turkey's borders and the region as well as protect Syrians from terrorist cruelty and oppression.