Turkey marked Labor and Solidarity Day, the country's version of International Workers' Day, with rallies all across the country on Thursday. More synonymous with violence than labor rights in the past, this year's celebrations by major labor unions were more peaceful, apart from sporadic incidents in Istanbul. Unions called for an increase in wages, changes in recruitment conditions as well as less tax cuts from salaries.
Four major unions picked different venues for celebrations. The Confederation of Progressive Trade Unions (DİSK), a union affiliated with far-left groups, joined by several political parties including the main opposition Republican People's Party (CHP), was in Istanbul's Maltepe district. The Confederation of Public Servants Trade Unions (Memur-Sen) marked the day in Kocaeli, which neighbors Istanbul. The Confederation of Turkish Real Trade Unions (Hak-İş) and the Confederation of Turkish Labor Unions (Türk-İş) chose Adana and Hatay, two cities in the south, for their rallies.
Fearing a repeat of riots in the past years, authorities deployed more than 26,000 police officers across Istanbul and similar security measures were visible in other cities where the events were held. Demonstrators were searched by police while entering the main celebration venue in Maltepe.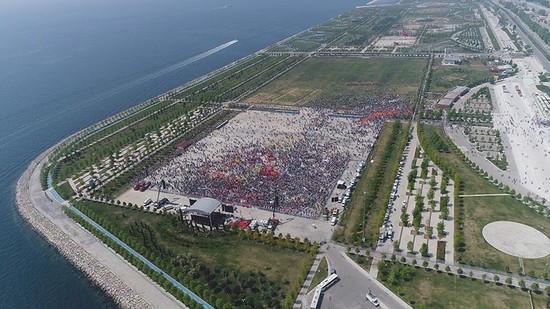 At least 70 people were detained when they tried to march from Şişli and Beşiktaş districts to Taksim Square, an area off-limits for celebrations. The square is the notorious scene of a 1977 massacre during Labor Day celebrations where 37 people were killed by gunmen and subsequent stampede; and is next to Gezi Park where violent riots broke out five years ago between rioters exploiting an environmental protest and police. Authorities allowed small delegations from labor unions into the square where they laid wreaths in memory of those killed in the 1977 massacre. The square was closed to Labor Day rallies from 1978 until 2010. Rallies in 2010 were peaceful, but after the ban was reinstated in 2012, protests again turned violent.
Public transport was affected by the rallies as several roads were blocked while metro stations in Ankara and Istanbul were shut down.
In Ankara, the main May 1 events were held at Anadolu Square. Around 4,500 police officers backed by helicopters were on duty. The march in the capital began from Atatürk Culture Center in Kazım Karabekir Street and later it culminated into an open-air meeting at Anadolu Square.
Some 4,000 police officers were on duty in Izmir's Gündoğdu Square, where various political parties and trade unions marked the Labor Day.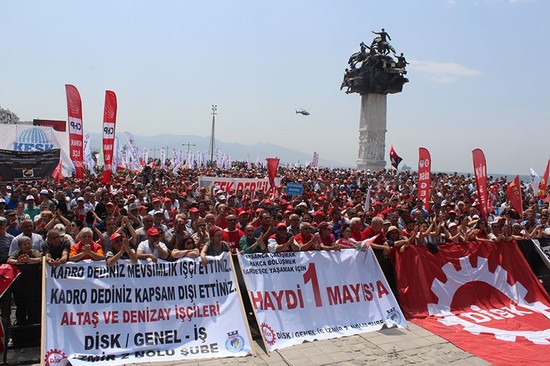 The rallies provided a platform for labor unions to convey their demands from the state. Addressing about 10,000 people in Kocaeli, Memur-Sen President Ali Yalçın listed their demands as an end to the practice of hiring workers through subcontractors and "more share to workers from economic growth." He also called upon assessing workers and civil servants on their career instead of measuring their performance. Another complaint was about the unfair divide of taxes affecting the salaries.
Hak-İş President Mahmut Arslan voiced similar demands in the rally attended by a large crowd of union's members in Adana, urging the state to remove the "heavy tax burden on salaries." Arslan hailed the government's decision to grant regular employment for about 1 million workers doing work for state agencies through subcontractors. "We won our fight for this and we are determined to continue our struggle to make all workers have their rights reinstated," Arslan said. The union president said work safety was their main concern and called for more inspections to workplaces for the implementation of proper safety measures. He also called upon the government to not take the inflation rate into consideration when deciding on pay raises for workers.