Gendarmerie units in Turkey's northwestern Bilecik province confiscated two rare, ancient, gold-plated Torahs, estimated to be worth at least TL 8 million ($1.86 million), reports said.
According to reports, security forces stopped a vehicle arriving from Istanbul with five passengers upon receiving intelligence.
After conducting a search, the gendarmerie found the Torahs hidden inside a loudspeaker in the trunk.
The Torahs were reportedly written on gazelle skin and were embellished with emerald and ruby decorations.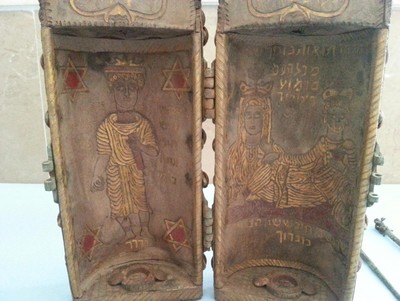 The suspects were planning to sell the ancient books and were headed to meet the buyers.
Bilecik Museum Directorate officials noted that the exact date of the Torahs will be announced after examination.
Previously in 2012, police in Adana confiscated a 1,900-year-old Torah which was smuggled in from Syria.

Lawlessness in neighboring Syria, mired with an ongoing civil war, has made Turkey a destination for smuggling antiquities from the country.

Authorities have stepped up efforts to prevent smuggling and the sale of smuggled artifacts. The Turkish government has also issued a list of artifacts, believed to be stolen from Syria, and warned customs agents, collectors and others against purchasing them.

Another Torah, believed to be 600-years-old, was confiscated in Istanbul in April 2016, when a suspect tried to sell it to undercover police officers.