This week Istanbul hosts the third annual Ethnosports Cultural Festival, an event to bring ancient sports confined to their birthplaces to the masses and celebrate cultures of a diverse array of ethnicities.
Organized by the World Ethnosports Federation, the five-day festival in Istanbul's Yenikapı Square focuses on sports indigenous to the Turkic world, Central Asia and Turkey. This year, sports from Qatar and Japan have been added to the busy schedule.
In line with the Turkic-heavy theme, the venue is dotted with yurts, each hosting a re-enactment of cultural practices as well as food stalls and festivities not related to the sports.
Some 883 athletes are competing in 13 different categories in the festival, from aba wrestling to şalvar wrestling, brace wrestling and oil wrestling. Also this year, Japan's Yabusame, a type of mounted archery, will debut.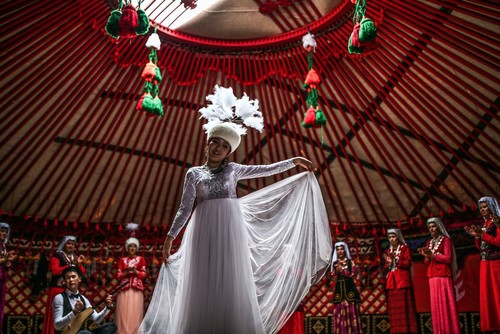 A falconry competition, a staple of the Arab world, will pit falcons from Qatar against famous hawks native to the Anatolian heartland. The "Ak Ev" (White House) of Kazakh culture will also be set up on the festival field, as 20 regional tents and some Turkish municipalities' tents will represent Turkish traditional sports and local customs.
The festival will introduce horseback riding to young visitors, free-of-charge. An acrobatics team with horses from Kyrgyzstan will put on a show for kids and adults alike. Thirty-three traditional children's games will be available for kids to play, including spinning tops, hula-hoops, tic-tock, riddles, nine stones, jump rope and hopscotch.
A Turkish Ottoman Swords and Shields, a folk dance performed with eponymous tools, team and an Ottoman mehter band will also perform.
What's more, delegations from Turkic countries and from around Turkey will display their culture in workshops showcasing handcrafts in tents.
About the festival's sports
Oil wrestling: A traditional Turkish sport, oil wrestling requires wrestlers to cover their bodies in oil and then wrestle. The competition will be held on "Er Meydanı" (Field of Contest).
Pantalets Wrestling: Pantalets' wrestling requires wrestlers to put on pantalets with bare feet. All techniques in this type of wrestling are carried out while standing.
Belt Wrestling: Wrestlers wear belts around their waists and try to pin their opponent on soil or a grassy field.
Javelin Throwing: Played on horseback, javelin throwing requires players to keep their composure on their horses and try to make the other player fall.
Mounted Archery: Also on horseback, players must hit targets while on a speedy horse and accumulate points.
Archery: Players need to hit targets to be successful in this game.
Gabardine Wrestling: In this type of wrestling, players wear gabardines and belts and try to pin each other. It is an ancient Central Asian game.
More events to revive ethnosports
Speaking at the opening of the festival, Youth and Sports Minister Osman Aşkın Bak said they would work to promote ethnosports by building sports venues.
"We built one in Uşak (a western city) and construction is underway in Istanbul, Kayseri, Malazgirt, Ahlat and Erzurum for facilities where ethnosport events can be held," Bak, whose ministry sponsors the Istanbul festival, said.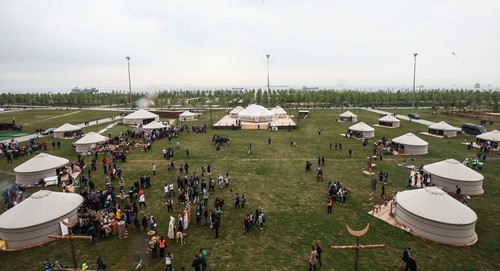 "This festival brings out energy to revive these sports. This event will become more internationally known in the future and will be a symbol of the revival of a history, a culture," he said.
The minister said "Diriliş Ertuğrul," a popular TV series depicting ancient Turkish life in Anatolia helped grow interest in history among the country's youth.
Bilal Erdoğan, president of the World Ethnosports Federation, also said at the opening ceremony that they were striving to make traditional sports more popular. "So we can tell the world that one's culture cannot have supremacy over another," he said in criticism of the West's hegemony in culture and sports," he said.
"All cultures are valuable and deserve respect. Our confederation aims to bring the world's traditional sports to the field, saving them from merely being subjects mentioned in passing in books," he added.