The Turkish Cooperation and Coordination Agency (TIKA) has distributed hot fast-breaking (iftar) meals to 1,000 families in the blockaded Gaza Strip, TIKA officials said Friday.
The agency will continue to provide iftar meals in Gaza throughout the Ramadan fasting month, officials said.
The aid was distributed to the owners of homes built by TIKA earlier and to needy residents of the village of Hajar al-Dik in the southeastern Gaza Strip.
TIKA has built 320 homes for Gazans who suffered from Israel's 2014 military onslaught, which left more than 2,300 Palestinians -- mostly civilians -- dead.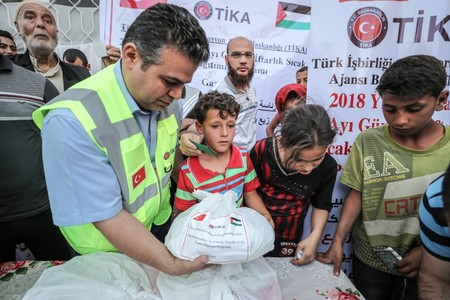 Last year, the completed homes were formally handed over to Gaza's Ministry of Public Works and Settlement.
According to Palestine's official statistics agency, the poverty rate in Gaza reached 53 percent in 2017, with at least 250,000 people -- of the strip's roughly two-million-strong population -- facing unemployment.
An ongoing Israeli blockade, imposed since 2006, is believed to be the primary reason for the economic stagnation.
Ramadan this year comes amid heightened tensions in the Palestinian territories.
On Monday, scores of Palestinian demonstrators were killed -- and thousands more injured -- by Israeli troops near the fence separating the Gaza Strip from Israel.