President Recep Tayyip Erdoğan joined the youth for a pre-dawn (suhoor) meal at a student dormitory in Turkey's capital Ankara, after receiving an invitation through Twitter early Friday.
Student Güngör Atak, who is a student at the Ankara Yıldırım Beyazıt University's Faculty of Dentistry, messaged the president on Twitter, inviting him to join the students for a pre-dawn meal at their dormitory.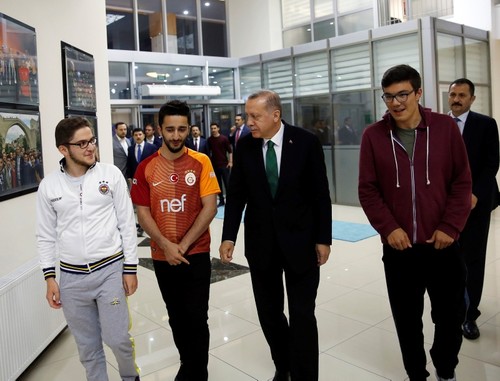 "Dear President, could you perhaps be our guest at the Hüseyin Gazi dormitory and have suhoor together?" the student asked.
Sayın Cumhurbaşkanım, bir gece de bizim Hüseyin Gazi Yurdunda sizi misafir etsek de sahuru birlikte yapsak? @RT_Erdogan

— Gamanli (@gngratkkk) May 31, 2018
"I am coming if your tea is ready," the president responded. In a later tweet, the president posted a video of the meal he had with the students at the dormitory.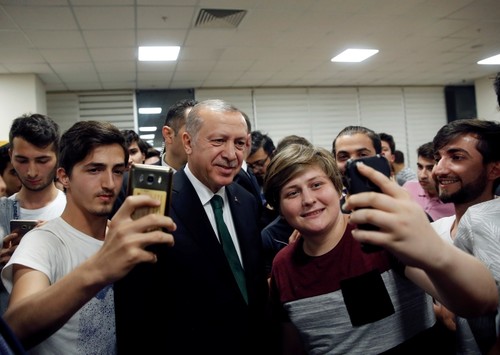 Excited to see the president, students welcomed Erdoğan, had the opportunity to chat with him and take selfies during his visit.
Gençlerle sahurdayız... https://t.co/HRQHAahpW9

— Recep Tayyip Erdoğan (@RT_Erdogan) May 31, 2018
To prepare for the fast, Muslims eat what is commonly called "suhoor," a pre-dawn meal of power foods to get them through the day.
Millions of Muslims around the world fast during the month of Ramadan, which is considered to be the holiest month in Islam, consisting of intense prayer, dawn-to-dusk fasting and nightly feasts.