Nine Syrian migrants including six children died when a speedboat carrying them sank early Sunday morning off the coast of Demre, a town in the Mediterranean province of Antalya.
The incident took place last night around 2.22 a.m. local time (Saturday GMT2322), near Kekova Geyikova Island, two-and-a-half miles southwest of Demre, in the coastal province of Antalya, the coast guard command said in a statement.
After a fishermen alerted the coast guard to the emergency, four boats, one plane, and a helicopter were dispatched to the scene, the statement said.
Five migrants were rescued by the coast guard and one other was rescued by a fishing boat, but the coast guard found nine who had drowned.
Doğan News Agency reported that all victims were Syrian nationals, including 13-year-old Darin Rashid, 10-year-old Dildar Rashid, eight-year-old Shiar and Dijwar Rashid, three-year-old Amina Rashid, 14-year-old Mohammed Bilal and 10-year-old Zahra Bilal.
The Rashid siblings were children of Idris and Zainab who were among survivors. Barely holding their tears back, the couple who lost five children was at a loss for words. Idris crouched down a wall with his palms firmly on his eyes while Zainab wore a sad look and clutched the handkerchief as she repeatedly wiped her welling eyes. "I have nothing now. I feel like I am dead. I lost everything. May Allah give us power [to survive]," Idris said.
The family had traveled to Antalya from Hatay, a Turkish city bordering with Syria. "[Smugglers] put us on a boat and told us to leave. I thought there would be a captain but there was nobody. No one aboard knew how to sail. It would take ten minutes [to the Greek side] but we were stuck in the same place for two hours. In the end, it sank," he said. Rashid said they would die too if it wasn't for Turkish soldiers.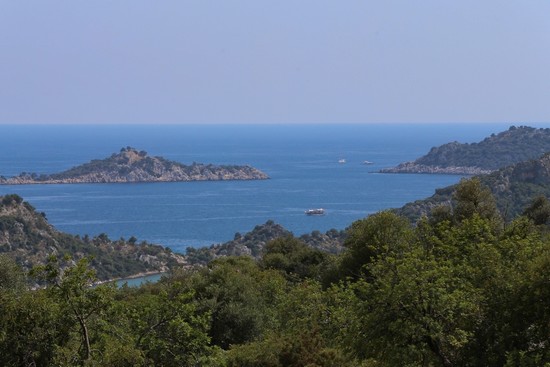 Turkish coast guard continued to patrol the area of the incident throughout the day. (AA Photo)

The migrants' ultimate destination was not clear and what caused the sinking is unclear but authorities believe they were trying to reach the Greek island of Kastellorizo.
The Greek islands near Turkish shores have been popular among illegal immigrants but Mediterranean shores are rarely used. Migrants usually prefer the Aegean coast of Turkey while making their way to Europe. Migrants heading to Cyprus via Mersin, another Mediterranean Turkish city have been intercepted in the past, but these have been isolated cases.
Between January and June, 26 illegal immigrants died en route to Europe by the sea route, barring Sunday's death. Last month, seven Afghan migrants died and another 13 were rescued when a small boat carrying them from Çanakkale in western Turkey to the Greek island of Lesbos capsized.
The Turkish Coast Guard intercepted 10,784 "irregular migrants" en route to Greece or other countries littoral to seas surrounding Turkey this year so far. The figures show that crossings have almost doubled compared to the same period last year.
Once swarmed with dinghies packed with migrants, the Aegean Sea has been relatively calm this winter compared to past years, however, migrants are still trickling in to the nearby Greek islands. The decline is largely thanks to a deal between the EU and Turkey two years ago.
Syrians refugees have long comprised the majority of migrants crossing over to Europe from Turkey, which hosts the largest Syrian refugee community in the world, at above 3.5 million. In 2015, crossings through the Aegean Sea reached 91,611 – excluding the number of those the Turkish Coast Guard could not intercept. A year later, Turkey and the EU reached an agreement to return the migrants taken in by Greece to Turkey, in exchange for receiving Syrian refugees settled in Turkey.