Turkey continues to provide aid in Sudan and aims to boost its aid activities especially in the month of Ramadan and has provided food assistance to at least 500 families living in a camp for the internally displaced persons in Sudan's Darfur region, the Embassy of Turkey in Khartoum said Saturday.
In a statement posted on Twitter, the embassy thanked businessmen who contributed, while a video showed women and children holding Turkish flags to thank the country for the aid provided.
Turkey and Sudan enjoy favorable relations, and the former provides humanitarian aid to the latter.
The embassy in Khartoum aims to be active during the month of Ramadan and has so far provided fast-breaking (iftar) meals at hospitals, orphanages, streets and other places with contributions from Turkish businessmen, Turkey's Ambassador to Sudan Irfan Neziroğlu told Daily Sabah.
The ambassador noted that the embassy has also provided food assistance to students from 43 countries residing in Sudan, as well as student dormitories.​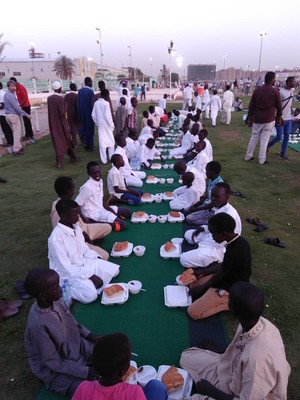 "We are planning to provide food aid to over 500 more internally displaced families in the city of Kassala near the border with Eritrea," Neziroğlu said, adding that the Sudanese people appreciate the assistance and thank Turkey for its contributions.
The Turkish Cooperation and Coordination Agency (TIKA) started restoration works on Sudan's Suakin Island after President Recep Tayyip Erdoğan visited the country in December.