Retired Romanian footballer who spent five seasons with Istanbul's Galatasaray club, Gheorghe Popescu is back in Turkey accompanying an 11-year-old to a hospital in the capital Ankara to receive treatment for cancer.
Popescu escorted fellow Romanian Madalin Marcia Lordache and her family to the Yenimahalle Training and Research Hospital, where he will receive treatment before returning home.
Lordache, whose treatment expenses will be covered by the Yenimahalle Municipality, was honored in a ceremony where she received Popescu's Galatasaray jersey.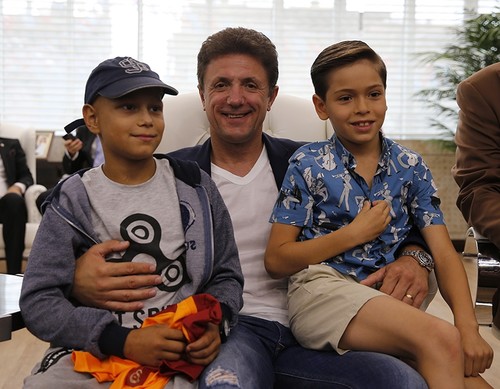 Popescu expressed his "heartfelt gratitude" to be able to partner with Turkey with the assistance of President Recep Tayyip Erdoğan to provide the best treatment for Lordache and his family.
"Romania is really a friend [of Turkey]," Popescu said. "This project is outside of politics. We have a partnership in football, and I have heartfelt gratitude for that."
Yenimahalle Mayor Fethi Yaşar, who honored the retired defender's role in bringing Turkey its first UEFA Cup, praised Popescu's cooperation with Turkey to provide care for Lordache, adding: "We will return Madalin to Romania in good health. This is our prayer, our faith."
Yaşar added that the medical partnership contributes to the friendship between Turkey and Romania.
"The Turkish-Romanian friendship is also important. Some of our compatriots are in Romania. We have business people there. And in Turkey, there are Romanian citizens. Romanians are extremely warm toward Turkey and in every way are the European nation that supports Turkey the best."
In 2000, Popescu scored on a penalty kick to defeat Arsenal and earn Galatasaray its first UEFA Cup – a first and only for a Turkish Super League club. Popescu played for the Istanbul club between 1997-2002, after being transferred from FC Barcelona, where he had led the team as captain.