Turkey's first professional female aerobatic pilot Semin Öztürk will perform in the Aeromania Aviation Festival to be held in Romania on July 14-15.
Öztürk, whose father is also an aerobatic pilot, dreamed of being a pilot since she was a little girl. With the help of her father Ali Ismet Öztürk, who is a founding member of Necati Artan Sportive Aviation Facilities in Eskişehir province, Semin Öztürk managed to become the first professional female acrobatic pilot in Turkey.
Now age 27, Öztürk has been flying for 15 years since performing her first aerobatic flight at the age of 12 with her father. As a young pilot, she quickly made a name for herself by flying in 12 different demonstrations in the presence of an audience by 2015.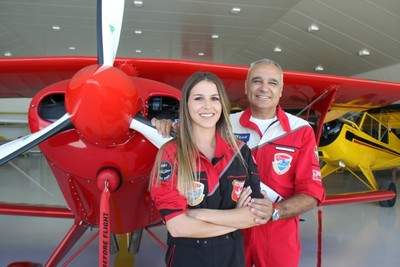 In an interview with Anadolu Agency, Öztürk said she was happy and excited for having the chance to represent Turkey in an international event.
"I always said my goal was to wave the Turkish flag abroad," she said.
Öztürk said her 'Pitts S2-B' plane with a 360 horsepower Lycoming engine will be moved to Romania by land after its wings are dismantled, since acrobatic planes can't fly long distances. Öztürk herself will travel to Romania on a commercial flight with all travel expenses paid by Turkish Airlines, who sponsored her.
The Aeromania Aviation Festival will take place July 14-15 in the southeastern Romanian city of Tuzla on the Black Sea coast and will have 35 participants performing in two different events. Öztürk will participate in both events.