Turkey was rocked by a train accident Sunday in Çorlu, a town in the northwest. Authorities announced yesterday that the death toll, initially announced as 10, rose to 24 and dozens were still being treated for injuries. The six-carriage passenger train with 362 people aboard was traveling from the Uzunköprü district of Edirne, a province on the border with Greece, to Istanbul's Halkalı district when it derailed Sunday afternoon. Survivors among the 318 injured in the accident broke into tears as they recounted the moments before and after the crash, the deadliest since a 2004 accident killed 41 people in the city of Sakarya. "I only heard a noise. Something happened in a moment and when I opened my eyes, I was on the ground," 65-year-old Pembe Gülsem told Anadolu Agency (AA). She was traveling to Çerkezköy, a district of Tekirdağ province where Çorlu is located, to visit her children living there.

"I was in the car before the last car. We had to crawl from the car on our own. When I looked around, I saw people lying dead or injured. Everyone was in shock," Gülsem said.
The cause of the accident was erosion of soil under the railroad tracks, according to authorities that said recent heavy rains in the area completely eroded the soil in a section of the rail network. Images from the scene showed that section almost in the air with no support underneath. The accident was in an isolated, muddy area where access by cars or ambulances was impossible. Track vehicles were dispatched to the area to evacuate the injured, while residents of a nearby village were the first responders, helping the evacuation with their tractors. Gülsem said they had to walk about 2 kilometers. "Ambulances could not come. [The scene] was in the middle of nowhere; it was impossible to reach. We had to wait for one hour [for ambulances to come]," she recounted. "Everyone was trying to get help. They were phoning anyone they knew. It was a real mess. Thank God we only had slight injuries," she said.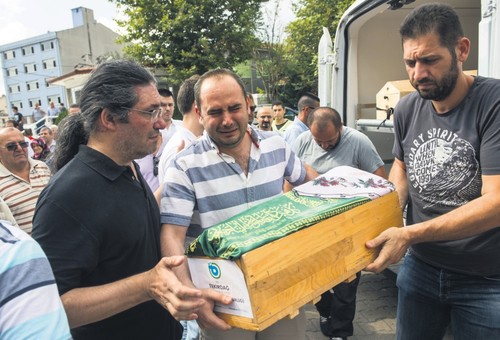 Melih Kurtuluş, who lost his wife Derya and their 10-month-old daughter Beren, carries his daughter's coffin.
Lying injured in a hospital bed, Ekrem Tuna mourns his wife Melek (Turkish for angel). "She is a real angel now," the elderly man said in tears. "I wish I had died, not her," he lamented. The couple was returning to Çerkezköy after a visit to Uzunköprü for the weekend. He was sitting across from his wife when they heard "a trembling noise." "Ekrem, what is going on? Are we going to die?" were the last words his wife uttered. "Then, the train turned over and over four or five times. She fell under the [overturned] car and died from bleeding," he said. Ekrem sustained injuries to his rib, waist and head.
Yasin Kızıltepe was returning from a visit to his parents' home in Kırklareli, a northwestern city. "I heard something knocking on the car, and it started bouncing. I grabbed the top of the front seat. Then, the car turned upside down. I grabbed my head to protect it. I felt my knees and feet hitting someplace. I felt a deep pain in my rib," Kızıltepe remembered. He would have gotten off two stops later if the accident had not happened. When he managed to get out of the overturned car, Kızıltepe saw the disintegrated car, with doors and wheels scattered around and windows sticking out from the muddy ground. "People were covered with mud. They were screaming for help. I was shocked," Kızıltepe said. He then called emergency services but had to walk 2 kilometers before he reached an ambulance that took him to a hospital in Istanbul.
Others were not so lucky. Nine-year-old Oğuz Arda Sel, whose image staring from a train window circulated on social media yesterday, was among the young victims of the accident. The boy, accompanied by his father Hakan, who also died in the accident, was returning to Istanbul from Uzunköprü where his grandparents lived. A football fan, he dreamed of playing for Barcelona, his mourning relatives told reporters. Other victims were mostly relatives as well, including 28-year-old Derya Kurtuluş, who was traveling with her 14-year-old niece Bihter Bilgin. Bilgin, who was excited about her first ever train ride, died along with her aunt Derya and the latter's 10-months-old daughter Beren, who was the youngest victim of the accident. Funda Dikmen, who was injured in the accident, lost her two daughters, Özgenur, a university student and Gülce, a middle school student, in the accident. Like most other passengers aboard, they were returning from a weekend trip to their hometowns in the northwest to Istanbul and Tekirdağ.
Meanwhile, a probe is underway to determine the exact cause of the accident. Two train engineers were summoned to testify by the Chief Prosecutor's Office in Çorlu. Deputy Prime Minister Recep Akdağ, who spoke at a press conference in Çorlu, said a criminal and administrative inquiry were underway and authorities were working meticulously on the issue. He said the local administration immediately set up a crisis desk in the aftermath and responded to the accident quickly. "Mr. president and prime minister also closely monitored the developments, and we regularly updated them," Akdağ said. He said although they were challenged by muddy soil, making access to the scene difficult, they quickly overcame it to reach the victims. Health Minister Ahmet Demircan said 194 out of 318 injured were discharged from hospital after treatment for minor injuries, while the rest were still being hospitalized.
President Recep Tayyip Erdoğan issued a message of condolence for the accident victims and said the state mobilized all resources immediately after the incident. "It deeply upset the whole nation. The accident is being thoroughly investigated," the president said. The government announced that the railroad was last inspected in April, and no problems were found. Train service on the route began in May.
Trains, a staple of transportation between cities in the past, have become popular again since the government launched a drive to expand the country's rail network and introduced high-speed lines. The train involved in the accident was not a high-speed train. The accident is the deadliest since a high-speed train derailed in Sakarya, a city east of Istanbul, in July 2004, killing 41 people. In 2008, nine people were killed when another train derailed in the western city of Kütahya.