The Turkish Cooperation and Coordination Agency (TİKA) is at the forefront of efforts to help Palestinians, a nation that strives to survive in the face of Israeli oppression.
A total of 543 aid and development projects by the state-run agency between 2005 and 2018 offer new approached to humanitarian aid, TİKA's Palestine coordinator Bülent Korkmaz said.
For Korkmaz, who spoke to Anadolu Agency (AA) on the projects, it is the outcome of implementation of a "Turkish model of development." He referred to the difference in humanitarian aid compared to aid by "countries with a neo-colonialist approach," who are expecting to exploit the recipients.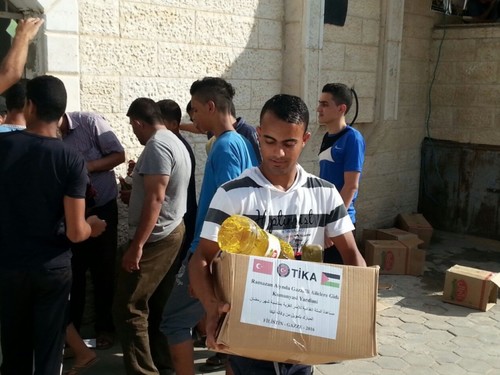 TİKA first opened office in Palestinian territories in 2005 and since then, has run 332 projects in the West Bank, 81 in east Jerusalem and 130 in the Gaza Strip. The humanitarian projects range from education and health services to water supplies and standard food packages for needy families, as well as restoration of historic sites.
Lately, it has worked on opening a 180-bed, modern hospital in Gaza and recently, TİKA handed over 320 apartments to impoverished families in the region.
The Palestinian-Turkish Friendship Hospital that cost about $62 million will be opened later this year and is touted as the largest and most modern hospital in the Palestinian territories. TİKA already built a similar but smaller hospital in the West Bank five years ago.
In other development projects in Gaza, twenty blocks of apartment buildings were completed last year, and helped accommodate 320 families, mostly those whose residences were damaged or completely destroyed in Israeli airstrikes in the past years. Sprawling over an area of 20,000 square meters, the buildings are a symbol of the Turkish brand of development. The agency also built six schools that serve thousands of students as part of a campaign "A School for Every Palestinian City" run by TİKA. Al-Khalil Turkish School in the eponymous Palestinian town, houses 550 students in 14 classrooms and in Nablus, Nuri Pakdil Girls' School named after the famous Turkish writer, caters to female students. The agency provides aid to existing schools and so far, has restored and furnished nine schools and set up computer classes. In higher learning, it has currently undertaken the construction of a 400-bed dormitory for female students of Jerusalem University.
Perhaps most unique among the projects is an olive oil processing plant. The Abasan al-Kabira Plant in Gaza helps olive farmers have better opportunities in agriculture. The Gaza Strip largely depends on foreign aid as the economy stalled under the Israeli blockade and apart from small industries, industrialization is almost nonexistent. Agriculture in the region, where strawberries, olives, citrus, dates and several other species are grown, is viewed as key in reviving the economy. Along with the plant, TİKA supplies agriculture equipment to the farmers, from tractors to harvesters. In al-Khalil, the
agency built a poultry facility at a high school of agriculture. The facility gives both a chance for students to learn better about poultry as well as provide extra income for schools, with 2,500 poultry raised at the facility. "TİKA has offices in 58 countries but Jerusalem and Palestine is special for us. We are always interested in this region but it is often misinterpreted," Korkmaz said, in reference to reports that Turkey seeks to be an influential regional actor competing with neighboring countries in terms of alliance with the Palestinian cause.
"We are an open, transparent agency with a working procedure that can be audited and are bound by legal procedures and operate under international law," he added.