Turkish borders are busy nowadays with thousands gradually leaving the country for two bittersweet reasons; residents of European countries who are of Turkish descent drive to the northwestern border after the end of a brief holiday in their native country, while further south, hundreds of Syrian refugees eagerly wait to cross into their homeland for the upcoming Eid al-Adha, the Muslim Festival of Sacrifice.
In the southern province of Kilis, long lines formed at the Öncüpınar border crossing with Syrian refugees hauling their luggage walking under the scorching sun to board buses on the other side of the border to travel to their hometowns. The crossing opened on Aug. 1, one day after it was closed for returning Syrian refugees who left for their country earlier this summer for the Eid al-Fitr Muslim holiday. This time, 39,371 refugees registered to leave for Syria, whose northern regions are largely liberated from terrorist groups thanks to the Turkish Armed Forces' (TSK) assistance to Syrian opposition groups. Amid the ongoing civil war, Ankara keeps its borders with Syria closed except for humanitarian aid delivery, but refugees have been allowed to cross for holidays, the only chance for a reunion for refugees in Turkey with relatives back home.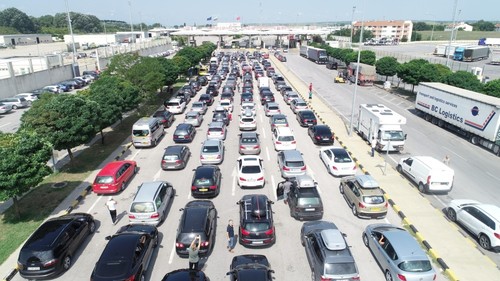 In Edirne, Kapıkule crossing saw long lines of Turkish expatriates heading back to Europe after a holiday in their home country.
Turkey hosts the largest Syrian refugee community in the world, more than 3.5 million, and helped the Syrian opposition liberate Jarablus, al-Bab, Afrin and other towns in northern Syria from terrorist groups in two large-scale operations in 2016 and earlier this year. This helped more Syrians safely return to their previously unsafe hometowns; so much so, about 3,000 of more than the 50,000 people who left for Syria for the Eid al-Fitr holiday, did not return. Nearly 200,000 Syrian refugees in Turkey resettled in Syria after the TSK assisted in liberating northern towns.
Patiently waiting at a checkpoint on the border where children are vaccinated by Turkish doctors, Syrians hand their registration documents to customs officials before crossing to the Syrian side. About 600 people crossed yesterday. Amina Maryam, one of them, said she was happy to reunite with relatives she has not seen for about six years after she fled to Turkey. Jibrin Youssef, who studies architecture in Turkey, headed to Kobane where his parents and siblings live. "I was alone in Turkey and wasn't able to go back for more than two years," he lamented. Halaq Hussein will reunite with relatives she has not see for four years, with gifts for them tucked in her bags. "I don't think I'll come back to Turkey if things are fine there," she said, referring to the security situation. Hussein hails from Azez, one of the few safe towns in northern Syria. The borders will reopen for returning refugees from Sept. 3 to Dec. 31.
On the northwestern border in Kapıkule, the main border crossing into Bulgaria, is another long line. Cars bearing license plates of a diverse array of European countries inch toward the customs gate as their occupants try to fend off sweltering heat. They are Turkish expatriates who live in Europe but drive all the way to Turkey to spend their summer holiday. Over the past two days, holidaymakers swarmed the crossing, and Turkish officials juggle the overwhelming demand. Mobile lavatories were set up on the border. The expats are mostly descendants of "guest workers" who went to Europe decades ago amid post-World War II reconstruction efforts. "It is a troubling road," Eyüp Ateş, who is returning to Germany where he works, told Anadolu Agency (AA). "We came, visited relatives and friends, and it was a good holiday overall. I come to Turkey at least once every year," he says. "It is a sinking feeling that we have to return, but we have to," Abdullah Öz, another returnee heading to Germany said.
The number of Turkish expats visiting Turkey this year for their summer holiday broke records according to media reports, reaching 727,000 in July. From Wednesday to yesterday alone, nearly 5,000 cars carrying expatriates crossed into Bulgaria. A smaller number of expats are still heading to Turkey from Europe. Expatriates prefer driving to Turkey due to the high price of plane tickets.