President Donald Trump's decision to impose sanctions on Turkish officials and increase tariffs on Turkish steel has created anger across the country, with Turks demonstrating their fury through various actions.
The Uşak Municipality issued a statement on Saturday, announcing their decision to suspend their budget for social media to prevent any money going to U.S. companies such as Facebook, Google, Instagram, Twitter and Youtube.
Uşak Mayor Nurullah Cahan, who is from the ruling Justice and Development Party (AK Party), said American attacks would prove to be of no consequence.
Many have also heeded President Recep Tayyip Erdoğan's call to sell their gold and foreign currencies to protect the Turkish lira. Ankaralılar Association (AHİD) members collected 65 gold bracelets, 105 gold coins, $2,500 and 3,000 euros over the weekend to sell. AHİD President Hilmi Yalman cited Erdoğan's remark that Turkey was faced with an economic war and the people had to do everything in their power to protect the Turkish lira.
"Trump's declaration of economic war or the current level of the dollar is of no consequence. Turkey will eventually emerge as the victor. Who are you Trump to interfere with our economy? We will produce more jobs," said Yalman.
Turkish Hockey Federation Chairman Sadık Karahan also followed Erdoğan's call to sell foreign currencies, announcing that the federation had converted the 25,000 euros in its bank accounts to lira.
"Turkey will beat everyone in this economic war," he said. There were those who tried to beat down the Turkish nation before, like those who perpetrated the July 15, 2016 coup attempt and other crimes, he said, adding that nothing and no one will beat the Turkish nation. He also called on others to follow his example.
The mayor of the Black Sea province of Rize, Reşat Kasap, went to a jeweler and sold his wife's gold on Saturday. Going to the jeweler with his wife, Menduha Kasap, the mayor said the move was in support of Erdoğan's call, adding that the Turkish nation would again emerge the victor as it had previous battles.
There are also moves by shopkeepers from around the country to support actions to protect the lira.
A tea shop in Erzincan in the east of the country said anyone that sold $100 would receive free tea. The owner, Gıyasettin Çetinkaya, 60, said he first decreased the price of a glass of tea from TL 1 ($0.16) to 50 kuruş, and then decided to support those who followed Erdoğan's call. "In spite of the dollar and opportunist traitors, tea is 50 kuruş," says a note on the door of the tea shop. Çetinkaya said he saw the dollar's steep rise last week as the continuation of the Gülenist Terror Group's (FETÖ) coup attempt in 2016.
There are also some organized campaigns. In the northwestern province of Düzce, a cell phone seller, a bakery, a restaurateur and a hairdresser announced that they will serve anyone who sold their dollars, euros and gold free of charge.
A note on their windowsills says, "Everyone who brings a receipt proving they sold their dollars, euros and gold will receive a phone cover, tea, pide, ayran, a haircut or a beard trim free of charge.
Phone seller Köksal Uyanık said they were following Erdoğan's call, adding that they were behind their country no matter what.
Baker Burhan Uğurlu said their actions should be seen as support for the president.
Nizamettin Kalaycı, who brought the hairdresser a receipt that showed he sold some dollars, said he had done so to show solidarity with the rest of the nation, and thanked the barber for his patriotism.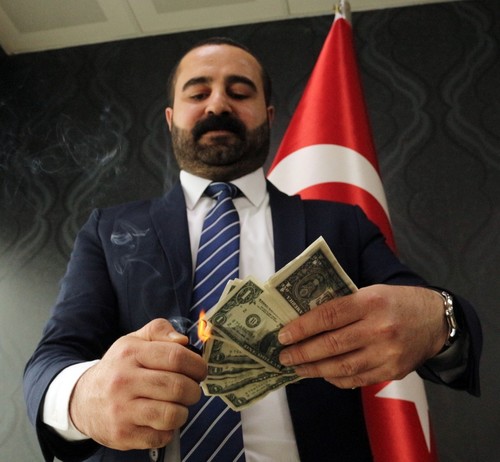 There are also some who took the campaign a bit too far, with one businessman in the southeastern province of Şanlıurfa burning 100 single dollar bills.
Hasan İzol said he was burning the bills in protest against the sudden appreciation of the dollar, adding: "We all know that FETÖ, based in the U.S., receives foreign support. We all need to show our patriotism to the entire world, especially the U.S."