Provinces across Turkey's Marmara and Black Sea regions were hit with flooding and hailstorms on Thursday afternoon and evening, as rain and thunderstorms are predicted to continue into Friday.
In northern Turkey near the Black Sea, the city of Kastamonu was hit with walnut-sized hail for 20 minutes, smashing windows of vehicles and buildings, and puncturing walls and roof tiles.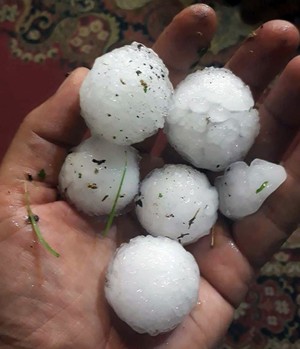 The city lost electricity amid the storm. Downed trees blocked road transport.
Firefighters and Disaster and Emergency Management Presidency (AFAD) were working to assess and respond to the damage.
The Marmara city of Bandırma in Turkey's northwestern Balıkesir province experienced disastrous flooding, as social media users shared videos of streets that were turned to rivers.
Numerous businesses and homes were flooded by the deluge. Several houses were also struck by lightning, city officials said.
#bandırma çarşı sele teslim..., pic.twitter.com/huw5iQ8O8H

— osman öner keskin (@osmanoner1907) September 13, 2018
The Directorate of Meteorology said in 90 minutes, 100 kilograms (220 pounds) of rainfall fell per square meter in the city.
Balıkesir Metropolitan Mayor Zekai Kafaoğlu said all firefighters and sewage teams in the city were being sent to Bandırma to respond to the disaster, as response crews struggled to keep up with the emergency.
The entire Marmara region, including Istanbul, and the western side of the Black Sea region experienced thunderstorms beginning late afternoon on Thursday which are predicted to continue through Friday. The General Directorate of Meteorology issued a torrential rain and thunderstorm warning for the provinces of Istanbul, Bursa, Kocaeli and Yalova effective through Thursday night and Friday morning.