Turkey honored its war heroes who fought in the wars in Korea, Cyprus, the July 15, 2016 attempted coup and against terrorism with commemoration ceremonies across the country on Sept. 19 Veterans Day.
Commemoration ceremonies were held on Wednesday in the provinces of Adana, Erzurum, Hatay, and Mersin and many other parts of Turkey.
Under new regulations brought forward by the Ministry of Labor and Social Security, 3,713 war heroes that were involved in the vigorous fight against terrorism will be given numerous rights such as interest-free home loans, free travel, discounts on electricity and water bills, additional payments, education support payments, additional employment rights, rent payments, military exemptions, exemption from health service patient shares, rehabilitation centers for those that require life support, benefits at age care facilities and much more.
In addition, psycho-social rehabilitation support will be given to war veterans across 81 provinces and various social activities will be organized for them. The ministry has so far provided 7,866 war veterans and their close family members with employment opportunities.
Members of the public that were injured and left disabled after the coup attempt in 2016 have also received monetary compensations.
The Social Security Institution will provide the children of war veterans with educational support payments along with additional annual payments for those that are unfit to work.
President Recep Tayyip Erdoğan attended the Veterans Day ceremony at the Beştepe National Congress and Culture Center in Ankara and thanked Turkish veterans "who risked their lives by fighting for the future of their country.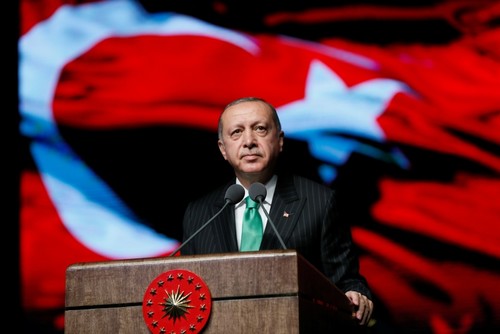 "It is with honor I remember all our ancestors who, when needed, shed blood and tears on our soil for the integrity of our nation, the future of our country, and to defend our state for a thousand years," Erdoğan said.
Recalling the July 15 coup attempt in 2016, Erdoğan said it was the latest example of the honoroble stance of the Turkish nation in the face of heinous terrorist attacks.
Many lives were lost and many were injured on the night of July 15, 2016 when a small military junta, accused of being members of the Gülenist Terror Group (FETÖ), tried to overthrow the democratically elected government and assassinate Erdoğan. Coup plotters, used heavy weaponry, including fighter jets, helicopters and tanks, against pro-democracy people that poured onto streets.
Erdoğan also celebrated the 97th anniversary of the bestowal of the rank of marshall and the Gazi (veteran) title to Mustafa Kemal, the founder of the Republic.