Two friends – one a doctor and the other a textile worker – have built two gyrocopters in the central province of Kayseri, and aim to produce more of the multipurpose aircraft.
In what started out as a hobby interest, pediatric surgeon Dr. Levent Ceyhan and textile worker Hacı Ceylan decided to design and produce aircraft.
They started out with unmanned aerial vehicles, which they worked on for 10 years.
A few years ago, the two found the idea for a gyrocopter from the internet, bought the necessary materials and started building.
After two years of labor, the pair created two of their very own gyrocopters, which can reach speeds of 100 kilometers per hour and safely stay in the air for 1.5 hours.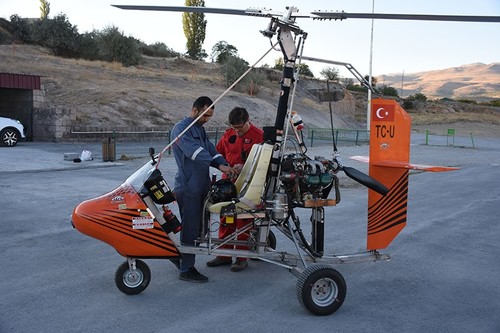 "We trusted ourselves. After we bought our tools and equipment, we established a workshop. We started our work," Ceyhan told Anadolu Agency.
He said they didn't get it right in the first try, of course, and had to do many tests and collect data before producing the finished product.
"After two years of operation, we produced this aircraft. We will continue with small test flights for seven years," he said, adding that he feels the gyrocopter is very safe.
The gyrocopter is Turkey's first ever to top 400 hours of flight time, Ceylan said.
The team said the gyrocopter has many possible uses, both civil and military.
"An aircraft that is produced in this way is an aircraft that can be used in all conditions needed in both civil and military areas. We want it to be used in this way. If desired, weapons can be added, it can fly unmanned, it can carry out observation, exploration and search and rescue, it can be used in coastal safety and the control of forest fires," Ceyhan said.
He said their goal is to produce the aircraft completely domestically, though at this point they still rely on imported engines.
"At the moment we can do everything from design to production of our vehicle," Ceyhan said.
Ceylan said the aircraft is relatively inexpensive to produce at a price tag of 150,000 Turkish lira – considerably cheaper than buying an aircraft from abroad.