The Aegean resort town of Bodrum in southwestern Turkey's Muğla province was pounded with hail and heavy rains that swept away cars and left the town underwater on Thursday.
Rainfall began in the morning hours and grew in intensity in mid-afternoon, turning streets into lakes and stranding drivers and pedestrians.
Videos on social media showed rivers of water sweeping over cars as they poured down the streets of the town. Photos showed well-known sites in Bodrum, such the Oasis shopping mall, nearly unrecognizable as locals waded through waist-deep water.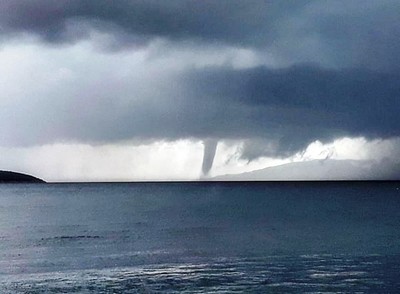 A waterspout formed on the sea between Bodrum and the Greek island of Kos around 2 p.m. and was visible from the Turkish shore for about 15 minutes, causing panic. However, the waterspout headed west and was eventually lost from sight.
Firefighters and emergency response teams from Muğla Metropolitan Municipality and Bodrum Municipality were working to drain water from homes and businesses.
Locals were warned to exercise caution as heavy rainfall continues.