Turkey is marking Dec. 3 as the U.N. International Day of Persons with Disabilities with awareness events and messages from leaders and organizations.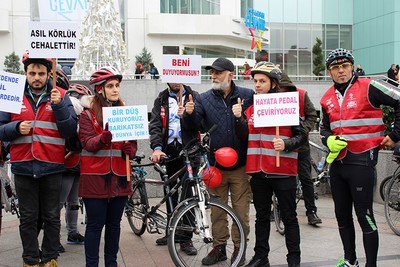 In Istanbul, hundreds of people cycled from Zeytinburnu district on the European side to the Üsküdar district on the Asian side. The July 15 Martyrs' Bridge was partially closed for the event held as part of the International Barikat (Barricade) Film Festival focusing on the obstacles faced by the disabled in daily life.

The festival – which is hosted by the Zeytinburnu Municipality this year and supported by the UNESCO Turkey National Commission, The Cervantes Institute, the Ministry of Culture and Tourism and Istanbul Governorate – was held for the ninth time this year.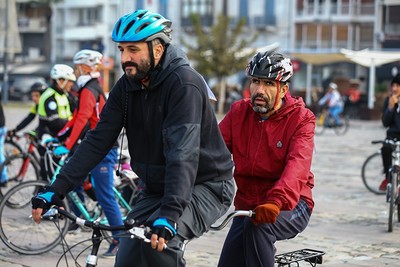 In the western city of Izmir, cycling groups organized a ride to raise awareness about disabilities on Sunday. Disabled persons were able to ride along on tandem bicycles or adapted bicycles, on a route that stretched from Üçkuyular Ferry Port to Gündoğdu Square.
Participants and onlookers held signs calling for more awareness of the challenges facing disabled individuals and for more efforts to be taken to increase accessibility and ease of life for these citizens, specifically in regards to transportation and mobility.

In the southern city of Adana, the Aviation and Adrenalin Sports Club (AHAS) organized a paragliding event in which 20 disabled children enjoyed floating among the clouds.
President Recep Tayyip Erdoğan on Sunday, amid a tour of Latin America, called on all citizens to do their part to help and support disabled people.
"I would like to once again underline that as a nation, we have to act more consciously and responsibly on the disability issue," Erdoğan said in a statement.
"First key to success is belief. Our brothers and sisters with disabilities, who make us proud with their success and inspire us with their resolution and determination, are the best examples of this," he said.
Noting that it was important to spread the idea that disability of the heart is the actual problem, Erdoğan said his government has been working to ensure that people understand that persons with disabilities are part of the society.
Erdoğan said the government has offered solutions to ease the lives of these people by improving the services, opportunities and special care given to them.
The Ministry of Education issued a statement saying that 269,204 students with disabilities were provided inclusion and integration services in 238 special education schools and research centers across the country. Another 9,251 students who could not attend school were provided education in their homes and 1,087 students were taught at the hospitals where they receive treatment.
The ministry also highlighted Turkey's work in the Balkan country of Bosnia and Herzegovina to provide education and vocational training to persons with disabilities.
"Our efforts continue to carry out all kinds of activities from education to sports so that disabled children can play an active role in social life," the ministry said.
The U.N. General Assembly proclaimed Dec. 3 as the International Day of Persons with Disabilities in 1992, with an aim to highlight the difficulties and problems these people face.
According to the World Bank, 1 billion people -- 15 percent of the world's population -- have disabilities.
Poor nutrition, education and health care deficiency, unsafe working conditions, the environment pollution, and lack of access to safe water and sanitation are important causes of the disability, it said.
"Disability may increase the risk of poverty, through lack of employment and education opportunities, lower wages, and increased cost of living with a disability," the bank said.