Over 5,000 explosive devices with a capacity of harming a square kilometer accommodation zone in Turkey's southeast have been so far destroyed by the country's security forces.
According to data compiled by the state-run Anadolu Agency (AA), a total of 5,079 devices, whose combined weight was 140 tons, have been dealt with in Turkey's southeastern provinces of Diyarbakır, Mardin, Şırnak and Hakkari during anti-terror operations.
The security forces have completed joint operations in the Sur district of Diyarbakır province, Cizre, Silopi and İdil districts of Şırnak province and Yüksekova district of Hakkari province.
Operations continue in the center of Şırnak and in the Nusaybin district of Mardin province.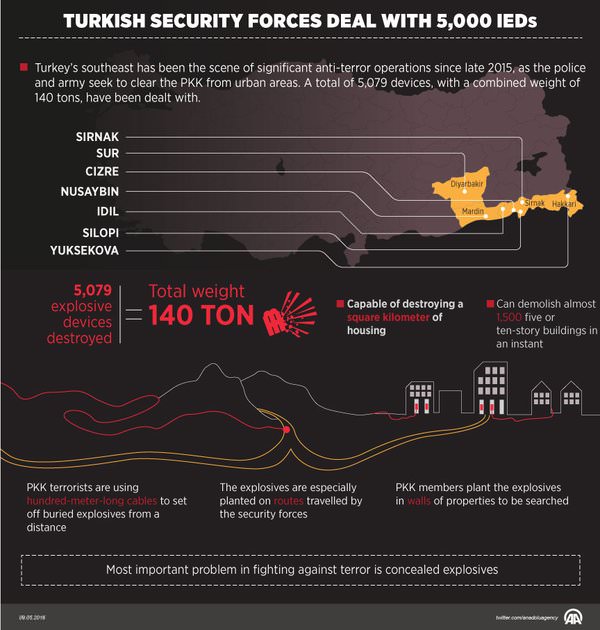 Turkey's southeast has been the scene of significant anti-terror operations since late 2015, as the police and army seek to clear the PKK from urban areas.
An explosives expert at Istanbul's Okan University, Professor Ali Kahriman, told Anadolu Agency that a 100-kilogram explosive could demolish a 10-storey building.
"One-hundred-and-forty tons of explosives can harm a square kilometer accommodation zone", Kahriman said, adding: "The explosives could demolish almost 1,500 five or ten-story buildings in an instant."
Security sources have said that PKK terrorists are using hundred-meter-long cables to set off buried explosives from a distance.
The explosives are especially planted on route travelled by the security forces.
Security sources have also stated that PKK members plant the explosives on columns and pillars of properties to be searched.
A security expert, Mete Yarar, told Anadolu Agency that the most important problem in fighting against terror is buried explosives.
The PKK -- listed as a terrorist organization by Turkey, the U.S. and the EU - resumed its 30-year armed campaign against the Turkish state in July 2015. Since then, more than 430 security personnel have been martyred and more than 3,800 PKK terrorists killed.