Even though the target of the July 15 failed coup attempt, orchestrated by U.S.-based fugitive imam Fethullah Gülen, was a democratically-elected government and some 240 civilians were killed, certain Western media outlets – and even politicians – tried to justify the military coup. Some biased articles critiqued Turkey's international disposition and NATO membership. Daily Sabah discussed Turkey's direction after the coup attempt with Ayşe Sözen Usluer, the head of the Foreign Relations Department at the Turkish Presidency. Answering our questions in the ruins of the presidential complex, targeted by putschists in last week's failed coup, Usluer said that the failed coup attempt was an opportunity for the West to demonstrate their dedication to democratic values. She stressed that unfortunately, Western governments and media, in several key cases, failed to put aside their bias and conveyed political messages.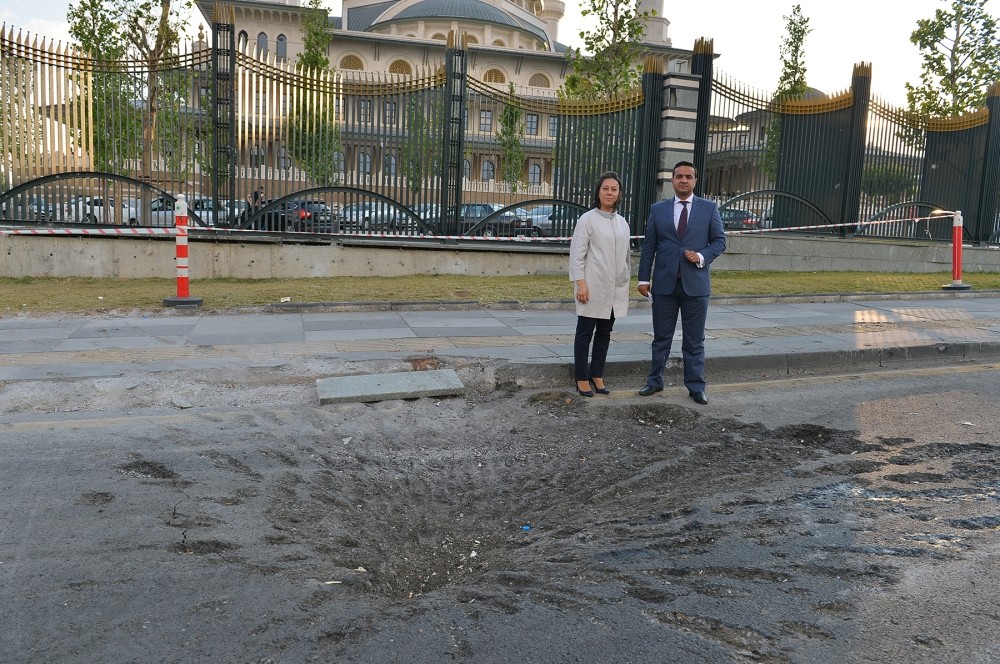 Commenting on the effects of the state of emergency, Usluer underlined that she does not expect any limitations on the people's democratic rights. Regarding allegations that the government is purging opposition after the coup attempt, Usluer stressed that intelligence and security forces, as well as the judiciary, had previously gathered evidence against Gülenist infiltrators and added that the suspensions in various institutions are related with these investigations.
Underlining that it is meaningless to discuss the EU process right after the failed coup attempt, Usluer also added that revoking Turkey's NATO membership is out of the question.
Daily Sabah: How do you evaluate the reaction by the international community to the July 15 coup attempt?
It was extremely disappointing. The negative reactions we received make me question the future of democracy in the world. In the first hours of the attempted coup, international news outlets referred to the event as a "coup against Erdoğan's authoritarian rule." The following day we saw headlines like "Erdoğan stronger, democracy in decline," "unsuccessful coup made Erdoğan stronger." Two members of the Congress in the U.S. tweeted the following: "Good news of the day: Military attempting to oust Turkish dictator" and "Military takeover in Turkey will hopefully lead to real democracy – not Erdoğan Authoritarianism."
It was even suggested that Erdoğan himself had orchestrated the coup just to gain more power. Certain news outlets further alleged that Erdoğan would attempt an Islamic revolution. We are used to seeing biased, anti-Erdoğan sentiment in the press, but this went beyond the level of surprise. Instead of condemning the coup or focusing on the tragedy of that night, they continued their usual Erdoğan-bashing. I believe this was an opportunity for the West to demonstrate their dedication to democratic values. Unfortunately, they failed to put aside their bias and continued to convey political messages.
They were discussing arbitrary issues while fighter jets were bombing civilians. These jets bombed strategic locations such as National Intelligence Organization (MİT), Special Operations and Police Headquarters. The jets were up in the sky all night. They nearly achieved a coup, and might have succeeded if the people had not interfered. Turkish people were protesting peacefully. For the first time, the Parliament was bombed. As if this was not enough, they gunned down people who were peacefully protesting. Even before the calls by President Erdoğan and Prime Minister Yıldırım, the people were already on the streets, determined to fight against the coup. President Erdoğan expressed this when he said: "When I landed in Istanbul, there were hundreds of thousands people already on the streets." These were the people whom the traitors fired at.
The coup had nothing to do with the alleged "authoritarian regime." A small group within Turkish Armed Forces, who had no regard for human dignity, staged all this against Turkish democracy. Make no mistake, we are talking about a small but unfortunately powerful group. They could have managed to stage the coup if the people had not interfered. The Turkish people were protesting peacefully, without harming anyone or anything. This must be asked: if this was a scheme, why would Erdoğan allow jets to bomb the locations from which he generates his power? Why would Erdoğan allow Erol Olçak, a close friend who was a key figure in the AK Party's election campaigns and the person who gave the party its name, who produced catchy slogans during the election campaigns, to be in the frontlines and shot dead – if this was just a scheme? I am ashamed to even talk about these allegations, as the Turkish people suffered heavy losses due to the brutal attack by the putschists.
We expected unequivocal condemnation of the coup attempt from the international community, along with their support for the democratically-elected government. We should thank some leaders who swiftly expressed their support for the legitimate administrators of Turkey, but it should have been done by all.
DS:
What is your comment on allegations that the state of emergency suspends democracy, bypasses Parliament and may be abused in order to introduce a presidential system?
I don't believe a state of emergency would be necessary to introduce a presidential system. President Erdoğan is a politician who has always expressed his policies clearly to the public. We are talking about a leader who has won 10 elections, both parliamentary and local, in almost 15 years.
Regarding the state of emergency, unfortunately it has a negative connotation in Turkey. If the people are somewhat concerned about this, it is due to its previous problematic applications. Still I believe that the people understand its necessity and abide by it. The strongest opposition comes from abroad.
The declaration of a state of emergency means that there is a significant threat and in order to eliminate it, the state needs to act fast with determination. Obviously, all the steps taken are within the legal framework. It was decided that it would be for three months and hopefully we won't have to extend it any further. Unfortunately, due to terrorist attacks, several countries in Europe are already under a state of emergency. France, for example, has been in a state of emergency for nearly two years, since the Charlie Hebdo attack, and have extended it four times. They even extended the state of emergency on February 16, in order to have stronger security for EURO 2016.
As has been stated by our President, Prime Minister and Minister of Justice, I do not expect any limitations to the democratic rights of the people. In addition, it is not possible to suspend the European Convention of Human Rights. However, it is possible to derogate the convention, as it is stated in Article 15 of the convention itself, during certain conditions. This includes limitation of travel, if not complete prohibition, along with the right to protest. It should be underscored that these may be implemented for security reasons, but I don't think ordinary people would have their rights limited. Therefore people will be able to live as they have been before. Turkey has a mature democracy; people stand up for their rights.
After the coup attempt, many people were dismissed from the Turkish Armed Forces and various state institutions. How would you reply to the allegations that the government is purging their opposition?
Officials with direct links to the coup and the mastermind, Gülen, have been under custody; some of them were already under arrest. Their cases are being carefully examined and due process is being followed. We have to wait until these investigations are concluded, as these are still the early stages of the legal proceedings regarding the perpetrators of the attempted coup.
As you know, the "parallel structure" investigations have been going on for some time, especially following the coup attempts of Dec. 17 and 25, 2013. Intelligence and security forces as well as the judiciary had previously gathered evidence regarding the infiltrators. I believe the suspensions in various institutions are related with this fact. People who are unrelated with the "parallel structure" will be allowed to swiftly return to their post.
Therefore it is ridiculous to assume that this is a purge of opposition. The "parallel structure" is not a part of the opposition. They are a secretive messianic cult. They disguise their true identities, and infiltrate every state mechanism and institution, carrying out orders coming out of Pennsylvania. The ones who speculate that Erdoğan will realize an Islamic revolution fail to recognize that Erdoğan's policies and aims have always been apparent, unlike those of the parallel structure (Gülen Movement). Whereas Erdoğan is a legitimate political actor operating within the political system, the Gülenist organization is certainly not. Therefore, no one can say that the opposition is being oppressed while talking about this organization.
The opposition resisted the coup together with government supporters. When CNN Türk, a Turkish news channel openly opposing the government, was invaded by the coup soldiers that night, and its employees resisted. Similarly, many journalists, artists and authors including Orhan Pamuk, a harsh critic of the government, published anti-coup statements. In addition, numerous owners of large businesses have visited the bombed Parliament and announced their support for the democratically-elected government.
Turkey will continue to be a democratic state, while never again giving a foothold to anti-democratic methods such as coups.
There were certain statements that the events which transpired after the coup attempt could endanger Turkey's NATO membership. Do you believe Turkey's removal from NATO is possible?
These allegations emerged as a result of several contradictory news regarding Kerry's statements. However, the U.S. Embassy in Ankara has denied these allegations. These allegations were also related with the events transpiring at İncirlik Airbase. We know that there was certain military equipment which was used during the coup attempt, such as refueling aircraft. The putschists planned to refuel their jets by using these refueling aircraft. That's why the power to İncirlik Airbase was cut, in order to stop the putschists. All other news regarding this issue is only speculation.
Turkey continues to use the airbase, together with its allies in the fight against DAESH. Turkey is an indispensable ally to NATO. Moreover, as it was made clear at NATO's Warsaw Summit, the influence of NATO will be expanded. Furthermore, NATO's new policy is enlargement, so to say, not lose members but to recruit more members. Therefore, revoking Turkey's NATO membership is out of the question, as Turkey borders Syria and Iraq and has strategic importance in the fight against DAESH.
Is NATO indispensable for Turkey?
It definitely is. This alliance was established during the Cold War, and reflects certain beliefs of Turkey very well. NATO serves as a guarantee against terror and countries that violate international laws. The threat from the Eastern Bloc during the Cold War has today been replaced by global terrorism, which only makes NATO's role more crucial.
The discussions about reintroducing capital punishment have sparked another discussion. Some allege that Turkey's EU membership process will come to an end. What is your take on this issue?
It is meaningless to discuss the EU process right after the failed coup attempt. Our membership process has been going on for almost 60 years, and people in Turkey had already lost faith in the EU before the coup attempt.
The expectations about being treated as an equal party within the EU are very low. Croatia, which started its negotiations with the EU at the same time as Turkey, became a full member of the EU in 2013. Furthermore, uncertainty about the future of the EU is rising. The possibility that member states will leave the EU has become a harsh reality. With Brexit, it is expected that these discussions will become more heated.
Regarding capital punishment, we have to track how this discussion emerged. During the coup attempt, people were brutally gunned down by the putschists, and the entire population was terrorized by sonic booms from fighter jets. The terror of losing their loved ones contributed greatly to the emergence of this discussion. I believe that this is absolutely understandable, for anyone with a conscience, that is.
On the other hand, capital punishment in Turkey was annulled as part of EU reforms in 2002. To reintroduce capital punishment, a constitutional amendment is required, which requires the approval of two-thirds of deputies in Parliament. Therefore it requires a consensus among political parties. In democratic countries, the demands come from the bottom up. As President Erdoğan said, if this issue is taken into consideration by Parliament and the constitution is amended, he would abide by the will of the people and ratify it.
All in all, I believe this issue will be discussed thoroughly. However, when we look at the history of capital punishment in Turkey, we will see that it was politicians and political prisoners who have suffered from executions, not those who actually deserved it. From time to time, death penalty is discussed in the country when crimes such as pedophilia come out, but as a reality in Turkey, death penalty was carried out only for political issues. Therefore, as I have said, all of these details will be discussed extensively in the near future.
Do you believe that there will be a shift in Turkey's international disposition?
I do not believe so. Turkey thinks rationally regarding such matters and acts accordingly. If we understand that the West has supported the coup attempt to an extent, it indicates the problematic nature of their understanding of democracy. President Erdoğan's call for a "New Turkey" indicates internal reforms, a new constitution and improved foreign policy relations with all our allies and neighbors.
However, the Turkish people will always remember that the international community failed to show support and solidarity when our country needed it the most. We will remember our friends who did not forsake us during these hard times.
After the normalization with Russia and Israel, certain messages about Syria were conveyed. What will change regarding Turkey's Syria policy?
I do not expect any change in Turkey's Syria policy. We are talking about a regime that has slaughtered more than 400,000 people, and the conditions of Syrians will never improve as long as the brutal regime stays in power.
The change in relations between Turkey and Russia was due to the downing of a Russian aircraft on the Syrian border. A violation of the rules of engagement was in question. However, both countries, especially Turkey, acted rationally and focused on mending the relations. In this regard, the normalization with Russia should not be considered as a significant shift in Turkey's foreign policy.
On the other hand, Israel accepting Turkey's demands was effective toward the normalization of relations. As the embargo on Gaza was punctured and Israel agreed to pay indemnities to the families of the ones who were martyred on the Mavi Marmara, the normalization of relations was possible.
Regarding cooperation between Turkey and Russia in Syria, the leaders would have to meet first. Russia has to demonstrate its sincerity to stop the bloodshed and not support the regime. However there are many issues from bilateral trade to tourism that Russia and Turkey will first have to revise. I think more delicate issues will be discussed once bilateral relations reach the levels they were at before the crisis.