The Gülenist Terror Cult (FETÖ) and its leader, Fethullah Gülen, received professional help from the CIA and have been part of a plan to invade Turkey for decades, Hüseyin Gülerce, who was the general director of the Gülenist Zaman daily and the man at the forefront for the Gülen Movement for many years, told Daily Sabah in an exclusive interview.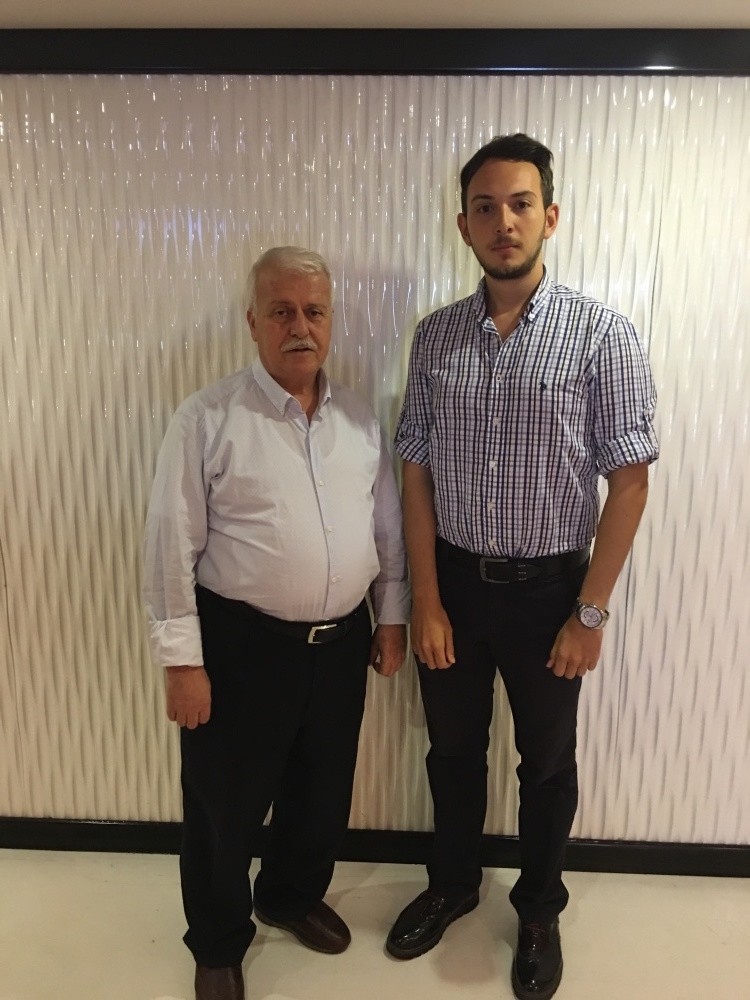 Daily Sabah's Yunus Paksoy (R) with Hüseyin Gülerce.
Climbing the ladder quickly after meeting Gülen for the first time in early 1989, Gülerce found himself writing weekly columns for Zaman since October of that year. Two years into his tenure at the paper, Gülerce became the man to spread the group's propaganda at conferences.
"In 1993, I started to show up on Samanyolu TV five times a week after the news to comment on the recent developments," Gülerce said. Samanyolu TV was the biggest TV channel affiliated with the Gülen Movement.Zaman and Samanyolu TV were two of FETÖ's most important media outlets in terms of spreading propaganda and manipulating perception while the terror group launched false investigations and locked up people unlawfully.
Gülen's plan for Gülerce was not limited to a column in Zaman and TV shows on Samanyolu TV. Gülerce became the chairman of the board of trustees of the newly founded Journalists and Writers Association (GYV). He remained in his post at the GYV for 14 years.
Gülerce was on his way to the top while he was a teacher in a small province near Istanbul five years ago.
Gülen's intentions and ambitious plans for Gülerce shifted to a new level when Gülerce was appointed general director of Zaman in January 1995. Given Zaman's utmost importance for the Gülen Movement and its followers, Gülerce had great influence.
At this point, Gülerce said: "Gülen has always been the general director, editor-in-chief and columnist of the Zaman daily. This never changed." He added that Gülen always had the last say for the pages and especially the front page every day.
'GÜLEN NEEDED ME FOR FETÖ'S LEGAL FACE'
When asked about whether he was scared of such a swift rise in his career in the Gülen Movement, Gülerce said he knew Gülen needed someone like him. "I thought I was the right man," he said.
Gülerce said he did not need to question his suddenly bright career because Gülen "needed a face like me."
"I worked as a journalist. My diction was proper. I worked as a physics teacher. I was a chairman of a football club once as well," Gülerce explained, saying it was the perfect match.
"I was the legal face of this illegal structure," Gülerce said, adding that Gülen used to ask him to appear on TV to talk about the movement in the 1990s.
WHEN DID GÜLERCE REALIZE GÜLEN'S ILL INTENTIONS?
As a Gülenist who had been at the forefront for the movement for years, Gülerce said he noticed Gülen's ill intentions when the Feb. 7 National Intelligence Agency [MİT] incident took place.
On Feb. 7, 2012, Istanbul's specially authorized Prosecutors, Sadrettin Sarıkaya and Bilal Bayraktar, considered followers of Gülen in the judiciary, issued summons for MİT Chief Hakan Fidan for collaborating with the PKK's administrative structure, the Kurdish Communities Union (KCK). It is believed that then Prime Minister Recep Tayyip Erdoğan was the next to bring in.
"I woke up on Feb. 7, 2012 when the MİT crisis took place. It was the first sign," Gülerce said.
Gülerce talked about his decision to leave the Gülen Movement as well. "I was watching Erdoğan closely. I was waiting for a sign. That's why I split after Dec. 25 [2013]," he said.
Gülenist figures in the judiciary and the police launched two investigations on Dec. 17 and Dec. 25, 2013, which led to a great wave of detentions and planned detentions, including many significant businessmen, ministers and Erdoğan's son.
"Gülen himself shattered the Hizmet [service in Turkish, what Gülenists call the movement.] notion in my head," Gülerce sighed.
Gülerce also explained how Zaman and its columnists started to insult and slander Erdoğan and the Justice and Development Party (AK Party) after "the Dec. 17-25 coup attempt."
"As I said earlier, Gülen is the editor-in-chief and general director of the Zaman daily. The Zaman daily is all about Gülen. So I thought to myself, these insults and slurs were ordered by Gülen," he said.
'GÜLEN AT TOP OF PYRAMID, KNOWS THE MOST CONFIDENTIAL THINGS'
Talking about the FETÖ's structure, Gülerce said Gülen is at the top of the pyramid and is the only one who knows the most confidential things.
According to Gülerce, there are only two people around Gülen who have the privilege to know about some of the most confidential information. "Osman Şimşek and Cevdet Türkyolu know what Gülen has always been up to," he added.
Explaining that Gülen has "strictly confidential henchmen" in Turkey, Gülerce said these men, who are called imams, deal with the Turkish Armed Forces (TSK), police and judiciary. "Adil Öksüz and Mustafa Özcan are only two of the imams. There are plenty," he added.
Öksüz allegedly started holding meetings with the FETÖ junta planning the coup six months before the July 15 attempt, relaying Gülen's instructions on how to carry it out.
Öksüz was the only civilian at the Akıncı Air Base, from which jets manned by coup pilots took off to hit strategic locations, and the FETÖ allegedly organized the attempt.
'GÜLEN, FETÖ RECEIVE PROFESSIONAL HELP FROM CIA'
Deciphering FETÖ's structure at the top, Gülerce said Gülen negotiates and makes joint plans with the CIA. "Gülen, as a retired imam, is not capable of carrying out all this. He gets professional help from the CIA. There were high ranking Gülenist police officers who traveled to the U.S. for training," he claimed.
Gülerce also claimed that Gülenists are trained by the U.S. in perception management and psychological warfare. "You cannot make it without professional help," he added.
Claiming that FETÖ sold Turkish state secrets to the U.S., Gülerce contended: "Gülen has been a tool of the 40-year plan to invade Turkey. The U.S. has always known about the infiltration of FETÖ into state institutions."
"Around 100 imams travel to Pennsylvania three times a year to get orders from Gülen. Does the U.S. not follow closely the periodical travels of 100 imams? Does Washington have nothing to say about this?" Gülerce asked.
'U.S. WILL DECIDE ON GÜLEN'S EXTRADITION IN THREE MONTHS'
Touching on Gülen's extradition, Gülerce said the U.S. will not put the new president into a tough position. "The U.S. will do something about Gülen's extradition before the elections in November. It will decide whether it will continue its alliance with Turkey or Gülen," he added.
Stressing that Washington has been under heavy pressure regarding Gülen's extradition, Gülerce said the U.S. will choose to continue to go with Turkey as an ally rather than a terrorist cult if it is governed by common sense.
'GÜLEN SELF-PROCLAIMED MAHDI, FOLLOWERS THINK HE IS A PROPHET'
Sharing his experiences about the followers of Gülen, with whom he had been in close contact, Gülerce said Gülen is like a prophet for them. "The followers assume that Gülen makes conversations with the prophet every Thursday. They think what Gülen says are the words of the prophet," he added.
Gülerce also said that Gülenists gather "himmet," saying that what they give will be monitored by the prophet. Himmet is a type of alms or donation, in this case given to affiliated charities, which are accused of transferring money for the personal use of FETÖ cadres. "These people are mental," he added.