The re-appearance of a pro-PKK figure who went missing on May 27 has not only confused some, but has also created controversy, as many media outlets and figures, including the chairpersons of the pro-PKK Peoples' Democratic Party (HDP) had claimed that he was detained and tortured by the Turkish state, falling for the smear campaign against Turkey perpetrated by PKK terrorists.
Şırnak provincial member of the pro-PKK Democratic Regions Party (DBP) Hurşit Külter was spotted in a PKK camp in Northern Iraq, and even held a press conference, months after he went missing after allegedly being locked up in a basement for weeks.
A campaign was launched following his disappearance, which accused the Turkish state of torturing, holding him incommunicado or killing him with impunity. Many took to social media outlets to demand an explanation for Külter's disappearance.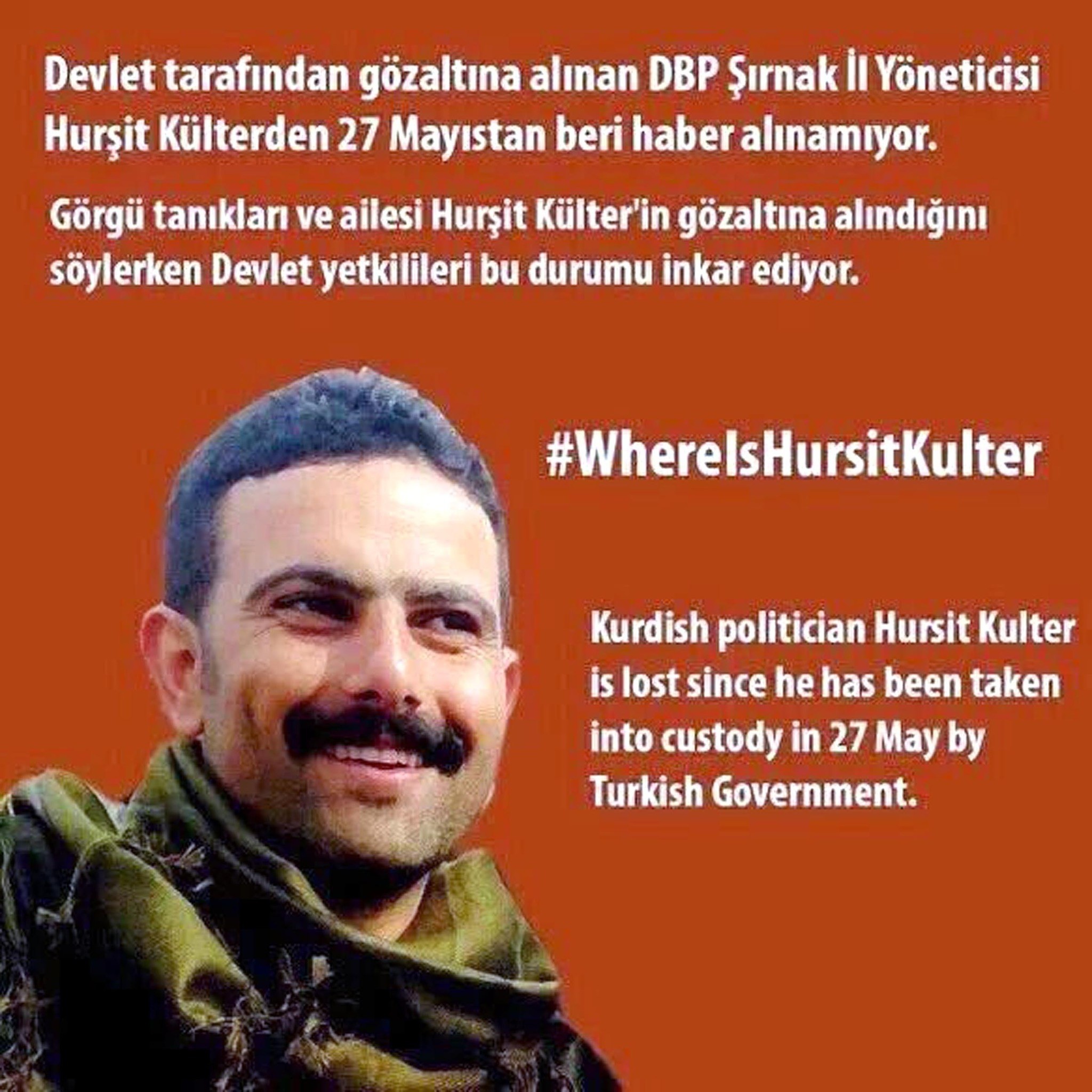 A poster widely shared by social media users with the hashtag #WhereIsHursitKulter
Politicians, columnists, and some western media outlets fell for the propaganda and ignored statements by Turkish officials, including Şırnak governorate, who said that Külter was not being held in custody.
The Ministry of National Defense commissioned an inspector in Şırnak to investigate the claims.
The co-chairman of the HDP Selahattin Demirtaş was one of the people who accused Turkey of being responsible for Külter's disappearance and even took the issue to his weekly parliamentary group meeting.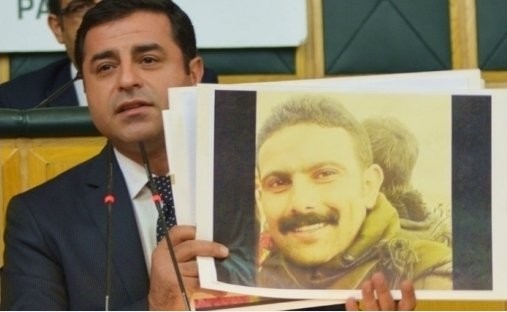 HDP's co-chairman Selahattin Demirtaş at his parliamentary group meeting
Holding a photo of Külter, Demirtaş told his party that Turkey is giving a message to Kurdish youth that their demise might be like Külter's and urged them to amp up their resistance against the state in the southeast.
Speaking at the parliamentary general assembly, Defense Minister Fikri Işık told HDP lawmakers that the government will not tolerate or permit lawlessness but will continue its counter-terror fight.
Meanwhile, western media outlets including the BBC, Foreign Policy and Deutsche Welle, were duped by the pro-PKK smear campaign against the Turkish state and wrote many articles criticizing Turkey's fight against PKK terrorists in the southeast.
Foreign Policy, was one of such outlets, which quickly wrote a new article correcting its initial piece on the issue entitled 'Turkey's Other Crackdown.'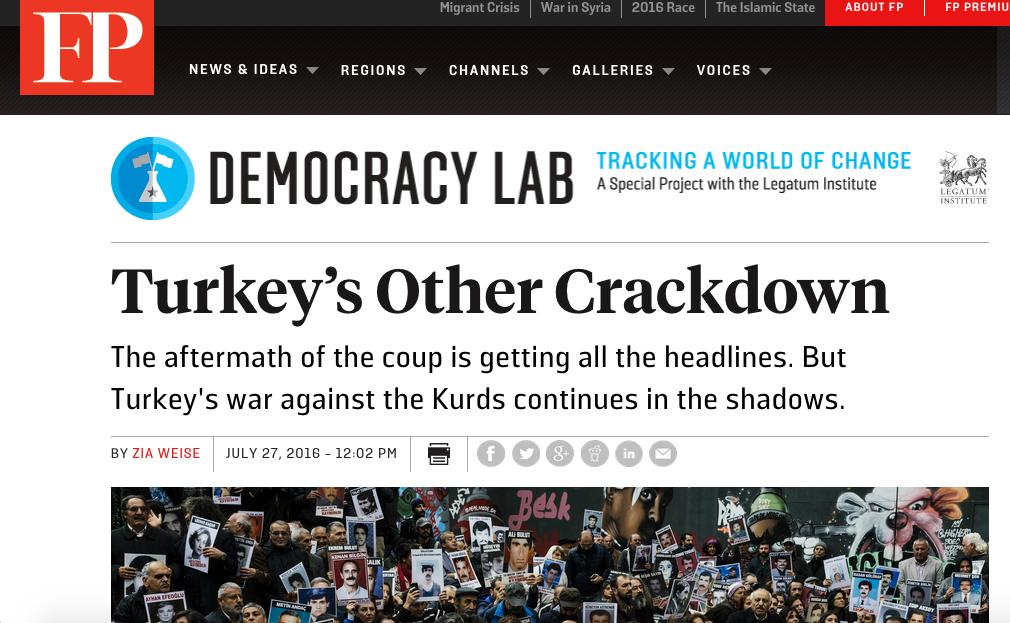 Here, the FP praised Külter for being an administrator who 'believed in politics and not weapons, as a means for change.'
Ironically, Külter showed up at a PKK terrorist camp in Iraq, which trains militants to carry out attacks against Turkish security forces, schools and even hospitals, in which many civilians are targeted.
The magazine quickly published a new article online, saying that the mystery got even weirder after Külter showed up in Iraq and questioned his explanation of the events, saying that those who believed his case now 'feel duped.'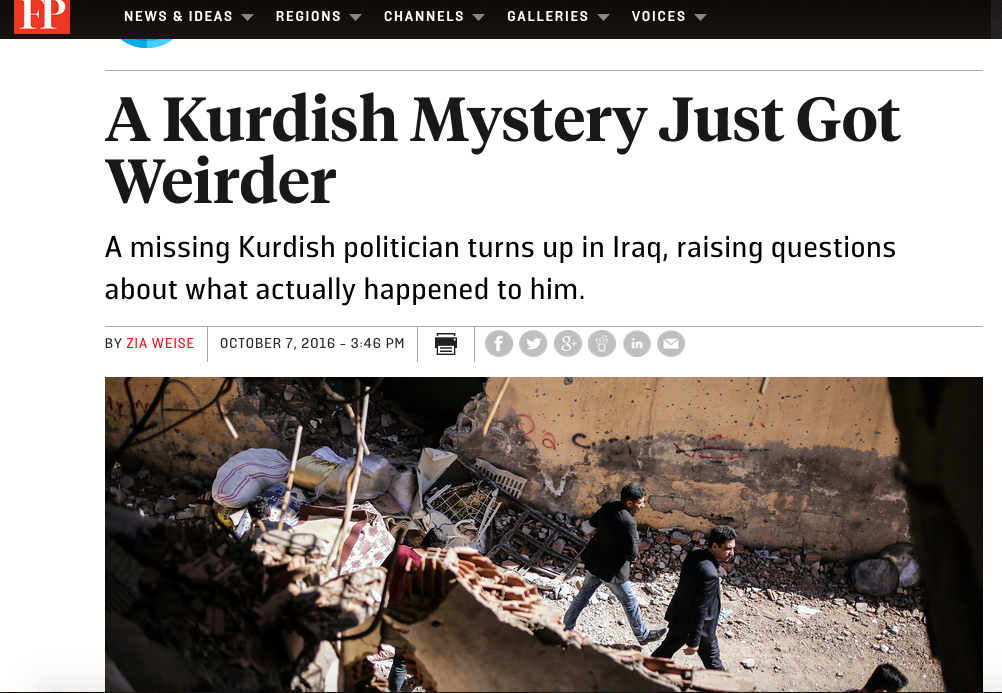 "His explanation — an unlikely tale of detention, miraculous escape, and months in hiding — was scant on details." FP said, admitting its mistake on choosing to believe a terrorist organization rather than legitimate state officials.
However, FP continued to side with pro-PKK accounts:
"A pro-Kurdish newspaper's account of civilian killings may be headlined as a successful counter-terror operation in the pro-government press" it said, disregarding the fact that Turkish state does not target civilians, and those killed in counter-terror operations are members of the PKK, which is recognized as a terrorist organization by Turkey, the European Union and the United States.
Deutsche Welle's article entitled 'The return of Turkey's 'dirty war' against the Kurds' also accused the Turkish state for forced disappearances, which have not taken place since the 1990s. The article insensibly labels Turkey's anti-terror fight as a 'dirty war' against the Kurds,' failing to differente between the law-abiding Kurdish citizens of Turkey and PKK terrorists.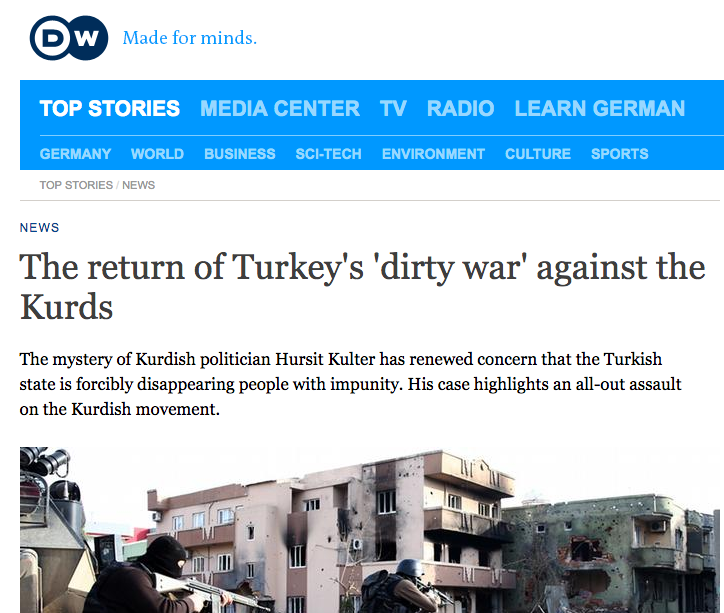 Even after Külter's appearance, BBC Turkish failed to recognize the fact that Külter's disappearance was a smear campaign, and published an article entitled: "Hurşit Külter spoke in Kirkuk: I was tortured for 13 days and escaped."
Many activists and columnists who demanded an explanation for Külter's disappearance condemned him after he spoke in Kirkuk.
Hürriyet Daily's Ahmet Hakan's column called Külter 'a vile man' and said his explanation of how he fled torture is nothing more than a tale and that Külter fooled everyone including Hakan himself.
Selim Sazak, an academic who writes for Foreign Affairs, is one of many people who said they feel fooled by Külter:
"I tweeted for Hurşit Külter. Shared the worry that he was victim of an enforced disappearance. I feel gulled, and I want meaningful answers" Sazak said on his Twitter account.
I tweeted for #HursitKulter. Shared the worry that he was victim of an enforced disappearance. I feel gulled, and I want meaningful answers

— Selim Sazak (@scsazak) October 7, 2016
Sazak also questioned Külter's account explaining how he came to Iraq, saying that he was captured for 13 days, and spent 40-45 days on the run in Şırnak, and two more months before coming to Iraq. "Doesn't make sense" Sazak added.

In March, the PKK set up at least 500 roadblocks and ditches manned with armed militants and explosives in Şırnak and suspectedly used civilians as human shields.
Thousands of civilians were forced to leave their homes as a result of PKK terror.
Turkey's southeast has been the scene of significant military operations since December 2015 as police and the army seek to clear the terrorists from urban areas.
The PKK, listed as a terrorist organization by Turkey, the U.S., and EU, resumed its 30-year armed campaign against the Turkish state in July 2015.