While a large number of weapons and ammunition were seized Sunday by Turkish security forces in a cave used as a depot by PKK terrorists in Hakkari province, aid sacks bearing the logo of the Office of the United Nations High Commissioner for Refugees (UNHCR) were also found among the items, raising questions of the extent of international support the terrorist group received.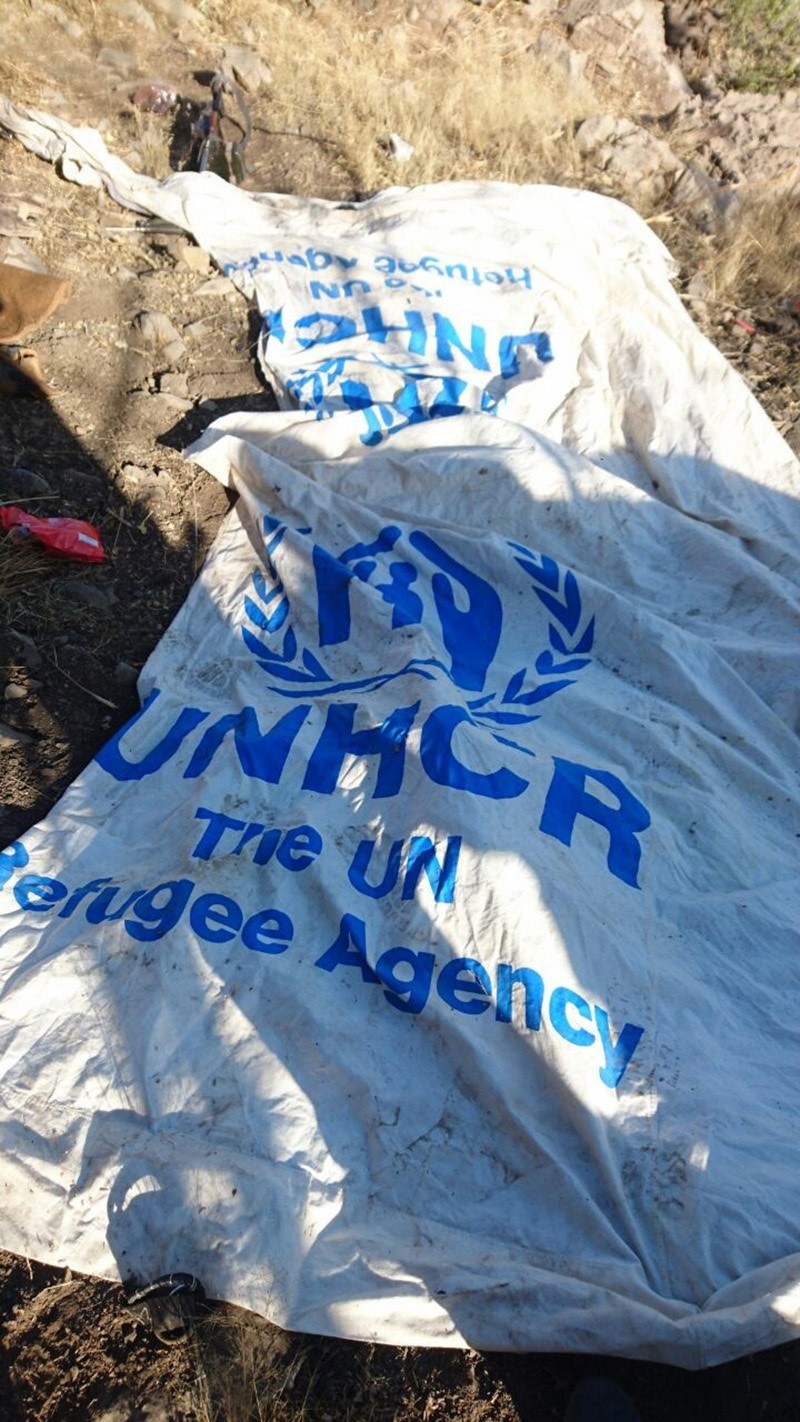 The cave was found in a field scanning operation in a hill in Hakkari. In addition to sacks bearing UNHCR logo, 624 DShK heavy machine guns, 1,500 anti-aircraft guns, 11,080 AK-47 attack rifle munitions and 952 rounds of artillery shells were seized. Numerous hand grenades and small propane cylinders – used by PKK terrorists to set up homemade explosive traps – were also found inside the weapons cache.
Documents belonging to the terrorists group, photos of imprisoned PKK leader Abdullah Öcalan and various food and clothing items were found.
Although the seized items do not point to direct aid received by the terrorist group form the U.N.'s refugee agency, it is highly likely that the terrorist group is seizing a considerable portion of humanitarian aid being distributed in northern Iraq and in Syria, where the PKK and its Syrian wing the PYD control large swathes of territory.
In a checkpoint erected in Tekeli area of Şemdinli district, 50 shotguns were found in a car, and the driver was taken into custody. The suspect's testimony led security forces to a nearby shack where over 40,000 packs of smuggled cigarettes were found. A small tunnel used as an escape route by the terrorists was also found underneath the shack.
Turkey southeastern most province Hakkari is a mountainous area bordering Iraq and Iran, where PKK terrorists are active and a large number of PKK terror attacks have been reported since the group resumed its armed campaign in July last year.
Renewed violence in Turkey has come in the wake of the July 20 Suruç bombing that was allegedly carried out by Daish and left dozens of people dead. The subsequent PKK-linked murder of two Turkish police officers in their homes sparked a new wave of conflict in the country.
The Turkish government has intensified its counterterror operations following the recent attacks carried out by the PKK, which is recognized as a terrorist organization by the U.S., the EU and Turkey.
Formed in 1978, the terrorist group waged a war against the Turkish government for an independent state until the early 2000s and then shifted its goal to autonomy in the predominantly Kurdish regions of Turkey.