A Turkish court ordered the arrest of a pro-PKK Peoples' Democratic Party (HDP) deputy in southeastern Hakkari province, Nihat Akdoğan, on Monday as part of an ongoing terror investigation.
Early on Friday, 12 HDP deputies, including Yüksekdağ and Demirtaş, were detained by Turkish security officers for refusing to bear testimony under the scope of ongoing terror probes.

HDP deputy Akdoğan had many times attended the funerals of PKK terrorists in southeastern Hakkari province. He has also been accused of informing the terrorists about police operations in the region, buying them precious time and preventing security officers from carrying out their duty.
In August 2015 he had said: "We bow down in front of the martyrs who voted for us and our leader...If you do not recognize our autonomy, then we will not recognize you as the government de jure and its official state institutions.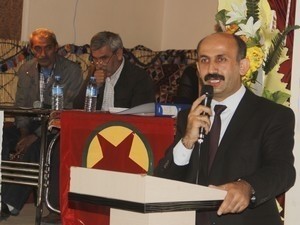 The HDP has come under fire for its close links to the PKK. Members of the party have so far declined to call the PKK a "terrorist group," attended the PKK militants' funerals, two of whom were the suicide bombers that killed tens of civilians in multiple bombings in Ankara.

Parliamentary immunities of deputies from all four parties in Parliament were lifted earlier this year. A total of 138 of Parliament's 550 deputies were affected by the lifting of immunities. It targeted lawmakers who come from all four parties and have a total of 667 criminal proceedings lodged against them.