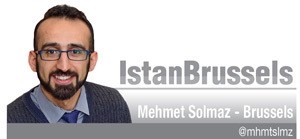 President Recep Tayyip Erdoğan has recently said that Brussels condones the PKK, recognized as a terrorist organization by the EU, and the Gülenist Terror Group (FETÖ), which attempted to stage a military coup in Turkey on July 15. Erdoğan said, "Condoning and providing overt or covert support to the groups you recognize as terrorist organizations… What kind of a friendship or sincerity is that? Belgium currently acts as an important center for both the PKK and FETÖ." Upon Erdoğan's remarks, Belgian Prime Minister Charles Michel said he found Erdoğan's accusations absurd, untrue and defamatory.
However, the latest developments seem to prove the Turkish president's words right.
Belgian Justice Ministry directs Daily Sabah to the Prime Ministry
A federal court in Belgium has recently ruled the activities of the PKK cannot be classed as terrorism and are to fall under the definition of an "armed campaign." Speaking to Daily Sabah, an official from the Belgian Justice Ministry abstained from making a comment on the pretext of the separation of powers principle. When reminded that we requested comment from them because the court verdict controverts the EU's list of terrorists, the spokesperson abruptly directed us to the Prime Minister's Office, saying they might issue a statement on our question. The Belgian authorities have not made any comment on that yet.
Belgian politicians appear in PKK and FETÖ-linked activities
The New Flemish Alliance (N-VA), which is the leading political party in Belgium defending the separation of the federal Belgium, joined a delegation with the pro-PKK demonstration in Brussels. The N-VA's European Parliament Member Mark Demesmaeker proposed to exercise economic sanctions on Turkey and gave a message of solidarity with the PKK by posing for the cameras in front of PKK flags along with other Belgian politicians.
Meanwhile, British and Romanian parliamentarians attended a panel organized at the European Parliament by Gülen-linked FEDACTIO along with distinguished Belgians.
Tolerance to PKK demos - barbed wire to democracy rallies
According to the judicial decisions of Brussels Municipality, an application for any mass demonstration is required at least 10 days before the scheduled date of the protest. However, PKK proponents gathered in front of the European Parliament in Brussels to protest the detainment of the Peoples' Democratic Party (HDP) deputies only a few hours after their detainment. Last Thursday, they marched from the North Railway Station to the European Commission office and freely carried out their propaganda. On the other hand, a marching permit was denied for the Turks living in Belgium who organized a rally to show solidarity with Turkish democracy against terrorism. The event was only restricted to Schuman square, which was fenced off with barbed wire.
FETÖ-affiliates seeking asylum peaks after coup attempt
According to the answer given by Theo Francken after a parliamentary question, who is the Secretary of State for Asylum, Migration and Administrative Simplification, the asylum applications of Turkish citizens to Belgium have increased ten-fold since July 15. While the total number of applications was only 17 in May and June, around 175 people applied for asylum between July 15 and the end of October. The number of applications made in the first 10 days of November was 50. It is said the applications were predominantly made by PKK proponents before the coup attempt but FETÖ supporters outnumbered them in the aftermath of July 15.
Fugitive MPs, terrorists sought with red notice stay in Brussels
HDP Şırnak deputy Faysal Sarıyıldız and HDP Van Deputy Tuğba Hezer Öztürk, for whom detention warrants were issued after they refused to testify as part of terror investigations, and the high-ranking PKK executive Remzi Kartal, for whom a red notice was issued, appeared in the pro-PKK demonstrations organized in Brussels. These names, along with PKK member Eyüp Duru, who has been at the PKK headquarters in Qandil for five years and is requested to be extradited, recently met with European Parliament President Martin Schulz and European Neighborhood Policy & Enlargement Negotiations Commissioner Johannes Hahn.
Sanctions imposed on terrorists excluding PKK or FETÖ affiliates
With an enactment published by Belgium's official gazette, the financial accounts, assets and real estate properties of some 15 terrorism suspects were frozen. There is no PKK, FETÖ or the Revolutionary People's Liberation Party-Front (DHKP-C) member among these 15 persons. The Belgian government has been able to freeze the accounts and assets of terrorists without adjudication since 2006.
FETÖ presses on Turkish expats and media outlets
Around 60 young people at protest on the night of the coup attempt in Beringen, Belgium, were called to testify after complaints by FETÖ proponents. FEDACTIO, which acts as an umbrella organization for FETÖ in Belgium, sent threatening letters to Turkish-language news portals based in Belgium. In the letter, signed by the attorney of FEDACTIO, the deletion within 24 hours of the news contents on FETÖ's Belgium networking was requested.
Expats: We served Belgium but it sides with terrorists
Speaking to Daily Sabah, some Turks living in Belgium noted that the Turkish population in Belgium stands at around 200,000. Emphasizing that they served Belgium and had a considerable role in the development of the country, they expressed their disappointed with the country since it sided with the terrorist organizations posing a threat to Turkey. The citizens insisted on remaining anonymous, for fear they might confront hardships, such as social pressure or dismissal from their jobs.