The Turkish military has airdropped on Monday anti-Daesh leaflets over the Syrian city of al-Bab under the scope of Operation Euphrates Shield.
Turkey-backed Free Syrian Army (FSA) forces recently edged the strategically-important Syrian city of al-Bab, located to the northeastern part of Aleppo, currently held by Daesh terrorists.
As the Turkey-backed FSA prepares to enter al-Bab, Turkish jets airdropped leaflets over the city in an effort to inform civilians of the threat the Daesh terror group poses, to ask them to support the FSA against Daesh, and to ask them to leave the fighting zone.
The leaflet read: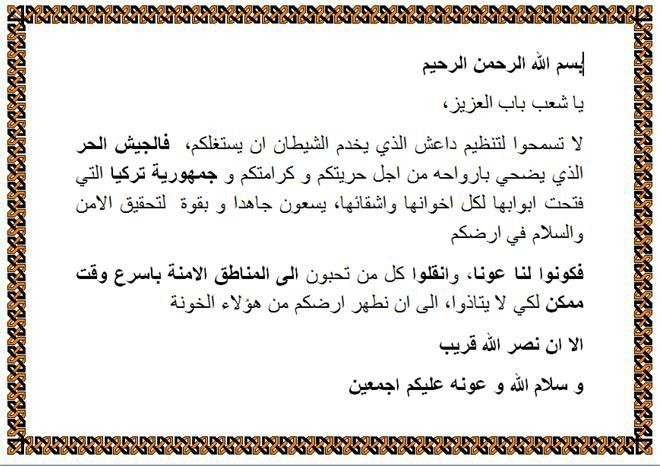 ''In the name of God, the most compassionate, the most merciful,

Dear people of al-Bab,

Do not let the Devil-serving Daesh terrorist organization use you for their purposes.

The Free Syrian Army forces, sacrificing their lives for your freedom and salvation, and the Republic of Turkey which opens their gates to their brothers in need strive to bring security and peace to your lands.

Help us. Until we free your territories from these traitors, and in order to protect them, evacuate your loved ones to safer places.

With the will of God, Victory is near.

God's peace and help be with you.''
Turkey launched the Operation Euphrates Shield in late August to ensure a terror-free corridor over Turkey's southern border with Syria. Currently terrorist groups such as the PYD-YPG, PKK's Syrian affiliate, and Daesh are active in Northern Syria.