Jaish al-Fatah, a coalition of anti-Assad extremist groups including Jabhat Fateh al-Sham formerly known as Nusra Front, denied on Wednesday any involvement in Russian envoy Andrey Karlov's assasination after a forged document on its involvement circulated on social media.
The statement allegedly released by the group led to claims that they carried out the assasination, seemingly debunking Turkish officials' remarks that the Gülenist Terror Group (FETÖ) was behind the murder.
Nevertheless, Hussam Al-Shafii, the spokesman of the group, said on his official Twitter account that the statement below circulating on the internet was fake and "amateur".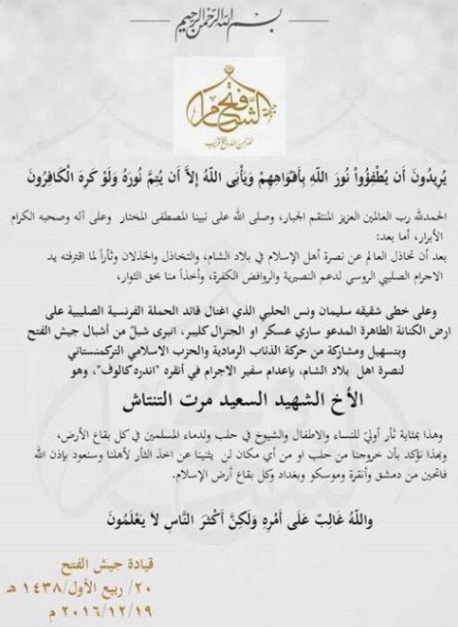 Before his comments regarding the allegation, social media users had already found irregularities on the document. One user stated that the so-called statement used a different font than the one used by the group on their official accounts and that the month of the statement was written in letters, not numbers.
Many Turkish officials have said that the Gülenist terror group perpetrated the terror attack. Foreign Minister Mevlüt Çavuşoğlu, speaking on Tuesday said that both Russia and Turkey know that the Gülenists are behind the attack. A day later, President Recep Tayyip Erdoğan said that there was no doubt that FETÖ carried out the assasination.
A document issued by the Diyarbakır Governorate shows that Altıntaş took two days of annual leave between July 16 and 18, right after the July 15 coup attempt, which was perpetrated by Gülenist militants embedded in the ranks of the Turkish military.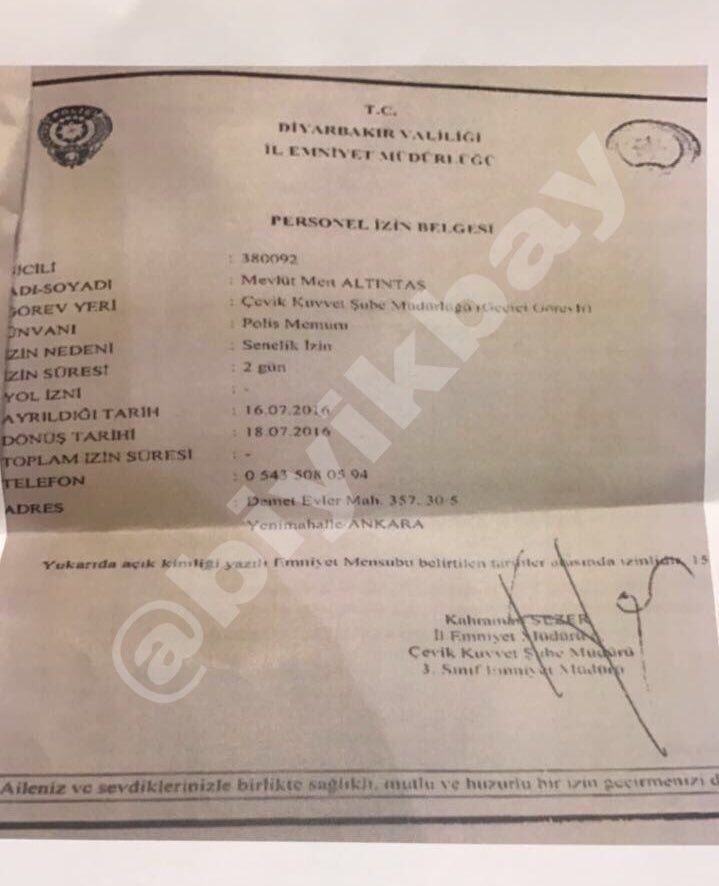 Previous documents seized during raids show that the terrorist group had originally planned to carry out the coup on July 16; but after learning that Turkish intelligence had received a tip-off, Gülenist generals decided to carry out their plan to overthrow the government a day ahead of schedule.
The third grade police commissioner who signed this document, Kahraman Sezer, is now in jail for his links to FETÖ. After the July 15 coup attempt, he was expelled from the Turkish police force during initial investigations. He was later arrested on accounts of "being a member of a terrorist organization." Even though taking annual leave was banned at the time, the document is proof that Sezer gave permission to Altıntaş, going against government orders. Every member of the military, security and police forces, amongst others, had been immediately called to duty because of the extraordinary situation.
Altıntaş was enrolled to Rüştü Ünsal Police College in Izmir in 2012 and graduated in 2014. The manager of the college during that period, Muzaffer Adem, was also discharged due to FETÖ links. The two high-rank police references Altıntaş used to apply to the college were also discharged from the police force over their involvement with FETÖ.