The bodies of two missing soldiers participating in Operation Euphrates Shield to liberate the Syrian town of al-Bab from Daesh terrorists have been returned to Turkey, a security official said Tuesday.
Infantry Sgt. Kıvanç Kaşıkçı, from Çanakkale province, and Gendarme Sgt. Muhammet Duran Keskin, from Adana, went missing on Nov. 29 during the operation to take al-Bab from Daesh.
The bodies of the soldiers were returned to Gaziantep in southern Turkey and will be sent to their home provinces, the official said on condition of anonymity due to restrictions on speaking to the media.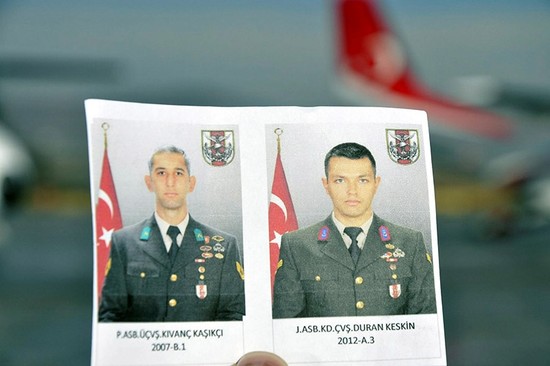 Infantry Sgt. Kıvanç Kaşıkçı and Gendarme Sgt. Muhammet Duran Keskin (DHA Photo)
The Turkish army released a statement on Nov. 29, saying that it had lost contact with two of its soldiers involved in Operation Euphrates Shield in Syria's northern border area.
In a written statement, the Turkish General Staff said that the two soldiers had not been able to be reached since 3:30 p.m. (12:30GMT) that day.
They were serving in Syria as part of Operation Euphrates Shield, which was launched in August 24 to clear Daesh terrorists and ensure security along Turkey's southeastern and eastern borders.