The Turkish government, together with the public, sees Donald Trump, the new U.S. president who was sworn in on Friday, as a positive force for much-needed realignment of the American foreign policy in the region. During the long and torturous Obama years, Turkey failed to see eye to eye with the U.S. administration on many issues, especially concerning the fight against Daesh. Over the last few years, Turkey has been accused of supporting Daesh and not fully supporting the counterterrorism fight against Daesh, all of which was proven false and admitted by the U.S.
However, the only country that is openly supporting an internationally-recognized terrorist group is the U.S., whose weapons transfers and military help to the PKK's Syrian wing Peoples' Protection Units (YPG), is the principal reason why the two countries have been at loggerheads over the way the anti-Daesh fight is conducted. Despite all the contrary evidence and even statements from the terrorist group itself, the Obama administration continues to argue that the PKK, which it recognizes as a terrorist group, and the YPG are not one and the same. Prime Minister Binali Yıldırım voiced the sentiments of most Turkish citizens when he said on Friday that Turkey expected U.S. stance toward the YPG and the Gülenist Terrorist Group (FETÖ) to dramatically change under Trump.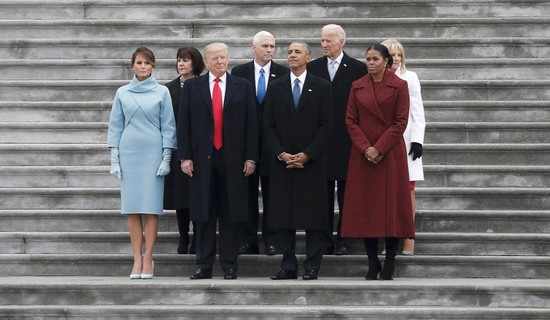 Smeared as 'Daesh supporter,' Turkey puts up most effective fight against terrorist organization
Turkey has been smeared by several power groups and terrorist organizations amid allegations of 'supporting Daesh' in Syria with non-credible claims, despite the country having given the most effective and costly counterterrorism efforts against the terrorist group, as the only power on the ground standing against Daesh
"I'd just say, look, we acknowledged that some of the initial assessments that we had were either corrected or were off-target a bit. We constantly do that. We admit when we make mistakes," said John Bass, the U.S. ambassador to Turkey, while confirming the CIA's apologize to Turkey over its false 'oil trade with Daesh' allegations.

During the U.N. Security Council meetings in New York in September 2014, U.S. Secretary of State John Kerry implied that there are documents proving Turkey's alleged oil trade with Daesh. While Ankara requested that the U.S. provide documented proof immediately, the U.S delivered the alleged documents in January 2015. However, after careful examination of the CIA's documents, officials from the Turkish National Intelligence Organization (MİT) revealed that the geographic locations in the document that allegedly reveals Daesh's oil trade was conducted with Turkey did, in fact, indicate an asphalt plant located in Turkey's southeastern province of Kilis.

Following this incident, U.S. officials accepted their mistake and the CIA apologized to Turkey in early 2015.

The Obama administration, however, was not the first that tried to associate Turkey with the Daesh terrorist group before retracting its claim. Several terror groups, aiming to increase international pressure upon Turkey, also cling to such baseless allegations, even though Turkey has given the most effective and costly efforts in its counter-terrorism fight.

Ankara opens borders for civilians, collaborate peshmerga forces against Daesh
During clashes between the PKK terrorist organization's Syrian offshoot the Democratic Union Party (PYD) and Daesh in Kobani in 2014, pro-PKK Republican People's Party (HDP) officials in Turkey as well as senior members of the PKK similarly expressed claims that "Turkey supports Daesh."

It was an ironic situation, however, that the PKK, a Marxist-Leninist terror group that has been waging war against Turkey since the 1980s, blamed Turkey for having a "passive stance" against Daesh.

In fact, during fierce clashes, Turkey immediately opened its border for Kobani residents - a largely Kurdish populace - allowing approximately 130,000 people to seek refuge in Turkey. The country also collaborated with Iraqi peshmerga forces, opening a corridor for three groups of peshmerga forces from Irbil to Kobani in October 2014, December 2014 and January 2015 in order to join fight against Daesh in northern Syria.

Those forces helped local Kurdish groups and the PYD in their struggle and Daesh was repelled from Kobani in January 2015, after 134 days of siege. While Kurdistan Regional Government (KRG) officials have thanked Turkey for sheltering refugees from Kobani and providing aid to forces that fought back against Daesh, PKK leader Murat Karayılan defines Turkey's efforts and the opening of its borders to civilians as a "scheme," saying, "the reason for opening its borders is the [Turkish government's] desire to see the city fall [to Daesh]."

The Gülenist Terror Group (FETÖ), having infiltrated state institutions via its followers and seeking to take over the Turkish government with a coup attempt on July 15, also tried to use the "Daesh" card against Turkey. In January 2014, trucks belongs to the Turkish National Intelligence Organization (MİT) were stopped and searched by gendarmerie forces in the province of Adana under the orders of Brigade General Hamza Celepoğlu. Nearly one-and-a-half years later, Cumhuriyet Newspaper's then Editor-in-Chief Can Dündar asserted that those trucks were actually "carrying arms to Daesh" in Syria.

Gen. Celepoğlu's intense ties with FETÖ were later revealed as he was selected for a senior post in the ranks of gendarmerie forces on the "duty lists" prepared by the terror group for the post-coup period. Along with the so-called "MİT trucks" case, he was also found guilty for negligence and his role in covering up the murder of Armenian journalist Hrant Dink in 2007 for which he was sentenced to life in prison. The Turkish government also refutes Dündar's claim, saying the aid trucks were headed to the Turkmen people in northern Syria who had been exposed heavy airstrikes and attacks under the Assad regime. Dündar was detained a few months later due to exposing state secrets. When Dündar was asked by the court what evidence he had to base such claims upon, he answered: "I don't have any information or document which proves whether those aid trucks were going to the illegal organizations [in Syria] or not," in his plea.Links between Cumhuriyet newspaper and FETÖ have also been discovered with new evidence by the prosecutors during subsequent probes. Dündar now lives in Germany as a fugitive and, for the past two years, has still been unable to explain why he made such baseless claim, without any credible evidences.

Statistics reveal Turkey's total war against Daesh terrorist organization
As a part of the internal anti-Daesh fight, Turkish security forces carried out countless raids across the country, while also tightening security measures at its borders, arresting hundreds of suspected militants. According to official sources through intelligence sharing with other countries, Turkey added more than 16,000 suspects to its no-entry list in 2016 alone.

According to figures from the Interior Ministry, in 2016, security forces detained 3,359 suspects while 1,313 of them, including 679 foreign nationals, were arrested due to links to the terrorist group. The ministry has also said that between 2011 and 2016 a total of 7,015 people, including 2,712 foreign nationals, were arrested for their links to Daesh, with 2,304 taken into custody.

Meanwhile, nearly 4,000 foreign terrorist fighters have been deported from Turkey since successful operations were conducted by security forces.

These statistics reveal that Turkey is the country that suffered most from Daesh attacks after Syria and Iraq, on whose land Daesh maintains its territories. Since 2015, Turkey has lost more than 400 civilians in Daesh's numerous terror attacks across the country, losing nearly 40 soldiers in Turkey's cross-border Operation Euphrates Shield.

However, other countries failed to cooperate with Turkey regarding the fight against Daesh. For example, Ibrahim el-Barkaoui, a Daesh member, one of the bombers in the Brussels airport attack and a city subway center attack that killed 34 people and wounded over 270 people in March 2016, had been deported from Turkey in June 2015 after he was caught near the Turkish-Syrian border. He was deported to the Netherlands at his own request while Dutch authorities and the Belgian Embassy were also informed about the incident. However, it was later announced that Barkaoui was set free because Belgium could not find terror links.

Only country on the ground fighting Daesh, despite lack of coalition support
Today, Turkey is the only country waging war against Daesh on the ground and has been receiving reluctant support from the the U.S.-led international coalition.

In addition to its fight against the terrorist organization within its borders, Ankara also launched cross-border Operation Euphrates Shield on Aug. 24 last year into northern Syria, in order to clean its borders of the terrorist group.

According to the Turkish General Staff weekly briefing, 1,940 Daesh fighters will be neutralized by the 150th day of the campaign.The military also said 227 residential areas and 1,875 square kilometers (724 square miles) of land have been secured along northern Syria's corridor from Azaz to Jarablus that runs parallel to the Turkish border.

The Turkish Air Force had hit 1,237 targets, the statement added. More than 3,000 improvised explosive devices (IEDs) and 43 landmines were disarmed.

The operation has focused largely on the Daesh-held town of al-Bab since early December. Free Syrian Army (FSA) fighters supported by Turkish forces have reached the town's western and northern outskirts, the statement said.