Turkish police arrested two suspected Daesh terrorists from Denmark and Sweden, who were planning to go to Europe to carry out attacks, reports said on Saturday.
According to reports, teams from Adana Police carried out counter-terror operations and detained Abdullah El Halabi who is a Danish-Lebanese national, and Tefik Saleh, who is a Swedish-Iraqi national.
They were transferred to a court on Friday, and were arrested, reports said.
The two suspects, who reportedly entered Turkey with fake identities said in their testimony that they were planning to go to Europe afterwards.
Although they claimed in their testimony that they crossed the border to Syria to distribute aid in 2014, police found photos in their phones, showing Halabi carrying weapons, and and both men fighting with other Daesh terrorists.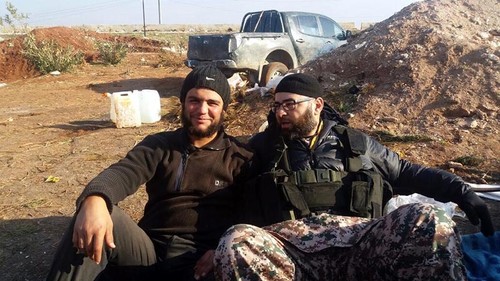 Abdullah El Halabi (right) and Tefik Saleh (left) fighting with Daesh terrorists in Syria (DHA Photo)
Moreover, police found out that the two suspects have been receiving intense training on weapons and explosives in the past three months in Syria.
Reports also said that Saleh's wife, Fatime El Rudeyni, who changed her mind about crossing the border to Syria and went back to Sweden instead, had complained to Swedish police about her husband joining Daesh with her daughters.

As part of one of the biggest countrywide crackdown operations against Daesh, hundreds of people linked to the terrorist group were detained last week as anti-terror police stormed places where suspects were staying.
Daesh is behind a string of attacks in Turkey and the most recent one occurred during New Year's Eve at Istanbul's Reina night club, where a lone gunman gunned down 39 revelers.
The terrorist group has frequently threatened Turkey and one of the most recent threats was a video showing a hooded man with a backpack passing by police cars and popular landmarks of Istanbul where the group carried out its first major attack in January 2016, killing a group of German tourists near the famous Blue Mosque.
Since Daesh has emerged as a terrorist group in war-torn Syria, Turkey has detained over 5,000 Daesh suspects and deported over 3,290 foreign terrorist fighters from 95 countries and refused more than 38,269 individuals' entry to Turkey.