A series of recent tweets from U.S. Central Command (CENTCOM) that declared the PKK's Syrian offshoot the Democratic Union Party (PYD) and its child soldiers are "ready to fight" has created uproar among Turkish citizens. The People's Protection Units (YPG), the armed wing of the PYD, is known for its child recruitment to fulfill its need for manpower on the ground in Syria. European Media Director of the Human Rights Watch (HRW) Andrew Stroehlein told Daily Sabah about the YPG's disturbing ways of recruiting child soldiers.
"Despite some progress in the demobilization of child soldiers in 2014 and 2015 and disciplining officers who allowed children to serve, the People's Protection Units are still not meeting its commitment to demobilize children and to stop using boys and girls under the age of 18 in combat," a report by the HRW in January - which Stroehlein submitted to Daily Sabah - said.
Another HRW official, Bill Van Esveld, told Daily Sabah that "Human Rights Watch could not verify the ages of fighters shown in photographs recently posted to social media by US CENTCOM."
However, he said that the HRW "has documented the recruitment and use of child soldiers by YPG forces in 2015, and by PKK-affiliated forces in Iraq in 2016."
He asserted that "the US should ensure that allied forces comply with international laws that prohibit non-state armed groups from recruiting children."
The U.S. considers the PYD and its armed wing, the YPG, an effective force in the fight against Daesh in Syria while Turkey, a NATO ally, argues that Washington has joined forces with a terrorist group. Washington has been slammed for the tweets that whitewash the YPG's child recruitment.
The YPG, which is the Syrian affiliate of the PKK terrorist group, has taken a hostile approach towards Turkey since the beginning. The terrorist group has attacked Turkish troops in Syria and militants trained by the YPG have carried out attacks in Turkey in the past.
Many users on Twitter reacted to CENTCOM's tweet that supported the YPG's child soldiers, asking whether they are underage or eligible to fight.
"Do you really think she is ready @CENTCOM? She looks only 14," a Twitter user asked.
"Not ready for fight. This is totally child abuse. Have no shame @CENTCOM?" another Twitter user asked the central command.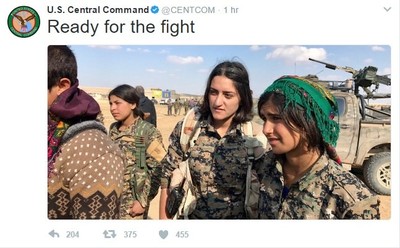 The PYD/YPG has recently mandated conscription for all girls and boys over 16 years of age in the city of Manbij, located on the west banks of the Euphrates River. Anadolu Agency, citing local sources, reported that PYD and YPG train child soldiers before sending them into active PYD fronts on a $100 payroll. The groups have previously implemented such practices in the Afrin district.
When queried, a statement by the defense department said the U.S. presently has no condition concerning age when supplying arms and weapons to groups in Syria, turning a blind eye to child recruitment by the YPG.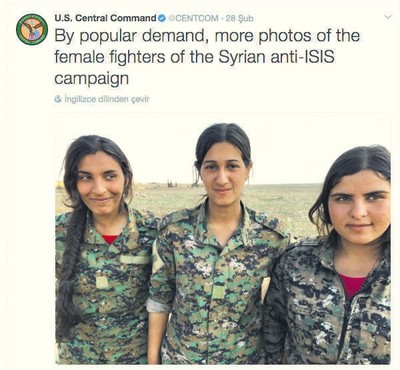 It also has a track record of forcing children to fight on their side in the Syrian civil war. On Sept. 1, a video of a little girl reportedly being told to shoot an automatic rifle in a PYD-ruled area in northern Syria, went viral. The video has been described by Twitter users as further proof of child abuse by the terrorist group.
The Yazidis, a regional minority group, have also suffered from oppressive acts by the PKK and PYD. The terrorist groups drove Yazidi children onto the battlefront, either by deceiving them or kidnapping them in Iraq and Syria, Sinjar District Governor Mehma Halili from the Kurdistan Democratic Party (KDP) stated last year.
The Obama administration's strong backing of the YPG greatly soured Turkish-U.S. relations and the U.S. still expresses support for the terrorist group.
Western fashion magazines have turned focus on the YPG and its child fighters, presenting them as "heroes." Due to the terrorist group's alleged fight against Daesh, Western media outlets have been whitewashing the YPG and promoting its militants in a wide range of articles.
For example, Marie Claire's article titled "These Remarkable Women Are Fighting ISIS. It's Time You Know Who They Are", published in October 2014, is one of these articles showing YPJ [the female unit of the YPG] fighters as heroes fighting for a revolutionary cause. The same article was also published by Esquire magazine.
The issue strained the bilateral relations to such an extent that President Recep Tayyip Erdoğan sent an ultimatum to Washington in February 2016 was to choose either Turkey or the PYD as its ally. His ultimatum came days after former U.S. President Barack Obama's special presidential envoy for the Global Coalition to Counter Daesh, Brett McGurk, paid a visit to PYD-controlled Kobani and held talks there. Photos of McGurk's visit to Kobani surfaced on social media and he was seen meeting with former PKK fighters in Syria. The two countries continue to debate the involvement of the PYD. While Ankara suggests that the U.S. should not side with the YPG to retake Daesh's so-called capital Raqqa, Washington has kept silent on the matter.
Ankara suggested that Free Syrian Army (FSA) elements, which have successfully liberated Jarablus, Dabiq and al-Bab as part of Turkish-backed Operation Euphrates Shield, be allowed to enter Syria through PYD-held Tal Abyad to reach Raqqa, according to an article going around Turkish media.
Erdoğan, in mid-February, reiterated that Raqqa could be cleared of Daesh's presence if Ankara and the U.S.-led coalition reached a deal.
Speaking in the southeastern province of Gaziantep, Erdoğan said, "If we come to terms with coalition forces, we will be able to cleanse Raqqa of Daesh as well."
The PYD/PKK is trying to combine its self-declared Afrin canton in the northwest corner of Syria to the Kobani and Jazeera cantons in the northeast, but Turkey and Syrian opposition groups fighting for the unity of Syria have been trying to prevent the PKK affiliates' separatist motivations.