The so-called leader of terrorist group PKK's suicide team, known as the Kurdistan Freedom Hawks (TAK) was reportedly captured in a joint operation conducted by the National Security Organization (MİT) and a team from the Special Operations Command in Iraq's Irbil city.
Hacı Türmak, who is the mastermind of 59 bloody attacks in Turkey's urban areas, was captured after intelligence units discovered an email address used by his courier from a sleeping cell.
The courier was technically and physically tracked by security forces, who figured out from communications that Hacı Türmak lives in Irbil, Northern Iraq.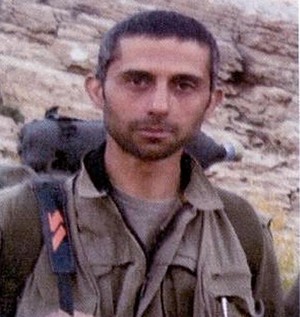 Türmak was reportedly brought to Turkey following his capture.
He is allegedly the mastermind behind the Dec. 17, 2016 car bomb attack on a bus carrying soldiers in Kayseri province, which left 17 dead and 55 others injured.
Other attacks his group TAK is responsible for in include the Jan. 16 2017 attack on a bus carrying police officers in southeastern Diyarbakır province, which killed 5, Jan. 5. 2017 car bomb attack in front of İzmir Court House, the bloody terror attack in Istanbul's Beşiktaş district, which killed 44 people, including 37 police and injured 157 others on Dec. 10, 2016 and various other attacks which left dozens of people dead and injured hundreds.
Reports noted that Türmak has been working with the terrorist organization for the past 19 years and specialized in bomb-making. Between 2009 and 2012 he was responsible for TAK's finances and extorted money from cannabis planting in the region.
He also provided bomb-training for new recruits between the ages of 17 and 25, in Lice district, with the aim to carry out attacks in urban centers, reports said.

TAK is known to claim the PKK terrorist attack bombings perpetrated against civilians in urban centers.
The PKK, which is also listed as a terrorist organization by the U.S. and the EU, resumed its 30-year armed campaign against the Turkish state in July 2015.